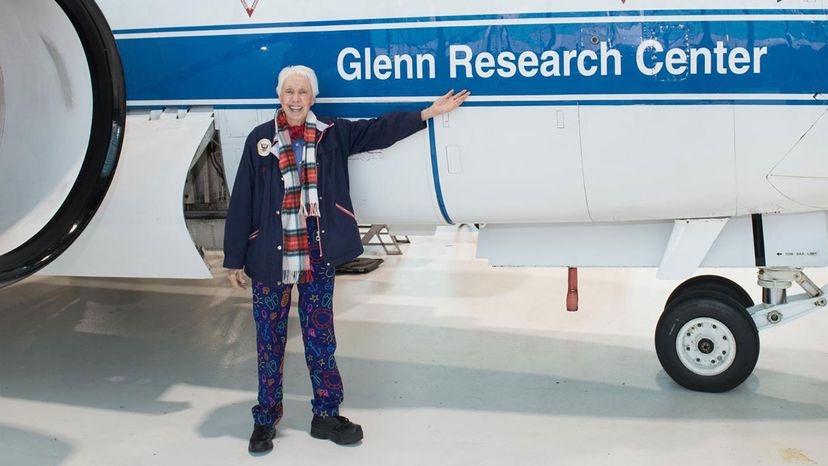 Imagine dedicating your entire career to one major goal that others told you was impossible. Now imagine finally achieving that lofty goal at a time in your life when most of those naysayers have quit or retired. Meet Wally Funk, the woman who's living that truth as we speak. At the age of 82, Funk, who has spent six decades trying to reach space, will soon join Amazon founder Jeff Bezos onboard the Blue Origin's New Shepard rocket, in the world's first unpiloted civilian space flight. According to NPR, she's on track to break John Glenn's record as the oldest person to reach space.
"No one has waited longer," Bezos himself wrote in a July 1 Instagram post announcing Funk's role as his honored guest for the flight. "In 1961, Wally Funk was at the top of her class as part of the 'Mercury 13' Woman in Space Program. Despite completing their training, the program was cancelled, and none of the thirteen flew. It's time. Welcome to the crew, Wally. We're excited to have you fly with us on July 20th as our honored guest."
According to Sir Brian Burridge FRAeS, Chief Executive of the Royal Aeronautical Society, Funk's triumphant achievement is long overdue. "Wally Funk's upcoming space flight is the culmination of an extraordinary career," he says in an email interview. "With Virgin Galactic's recent flight and Blue Origin's upcoming one, we are truly entering a new era of space flight. But this new era is built on the dreams and vision of people like Wally Funk herself and who were true pioneers in space flight, and in her case, a pioneer for women in particular. We at the Royal Aeronautical Society celebrate all those who have dedicated themselves to space exploration and the advancement of human knowledge of space. We wish her well on her amazing adventure."