Like all military organizations, the U.S. Army follows a strict hierarchy. This establishes the chain of command through which virtually all Army orders and procedures flow. The President is the Commander-in-Chief of all U.S. armed forces. In wartime, he makes decisions based on recommendations from the Secretary of Defense and the Joint Chiefs of Staff, a committee of high-ranking officials from each branch of the armed forces.
The U.S. military is also divided into 10 Unified Combatant Commands (UCC). UCCs include forces from the Army as well as other military branches. Four of these commands are functional:
The remaining five commands are large geographic regions that encompass the entire globe. Each regional UCC is lead by a general and manned by a numbered field army. For example, the UCC responsible for North America, United States Northern Command, is manned by the Fifth Army. The rest of the regional commands:

Photo courtesy U.S. Department of Defense
This world map shows five of the six regional commands of the Unified Combat Commands. United States Africa Command (USAFRICOM), created in February 2007 from parts of USEUCOM, USCENTCOM and USPACOM, is scheduled to become operational in September 2008.


Within each field army are several corps; the corps themselves are made up of divisions. Formerly, the division was the "building block" of most Army deployments. When troops were needed somewhere in the world, the Army would send one or more divisions to do the job. However, a division is made up of more than 10,000 troops (including support personnel), and many situations faced by the modern army don't require that many soldiers.
As a result, the Army is undergoing a restructuring, scheduled to be completed in 2009, that will increase the flexibility of troop deployments. Once the restructuring is complete, the brigade will become the basic "Unit of Action" for the army. Made up of about 3,000 troops, each brigade will serve a specific purpose and will be completely autonomous, containing all the support and command personnel needed for the mission. Brigade types will include infantry, artillery, airborne and sustainment brigades, as well as Stryker brigades that will use the Army's versatile Stryker wheeled combat vehicles.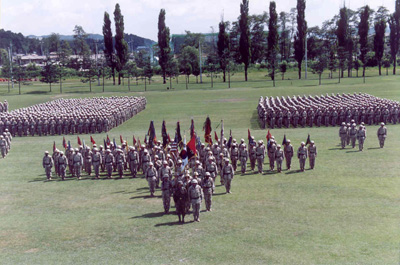 Photo by Hu Son Yu/courtesy U.S. Army
The 2nd Brigade Combat Team stands in formation at Camp Casey in Tongduchon, Korea.


Within each brigade, troops are further broken down into smaller groups:
Battalion - up to 1,000 soldiers
Company - approximately 100 soldiers
Platoon - up to 50 soldiers (this is the smallest unit lead by a commissioned officer)
Section or squad - Approximately eight soldiers
Fire Team - four soldiers
In peacetime, army leadership is more political than military. It is headed by the Secretary of the Army, a civilian position beneath the Secretary of Defense. The U.S. Army Chief of Staff advises the secretary. High-level army leadership is made up of commissioned officers, men and women who graduated from officer school and have been specially trained to be leaders. Warrant officers make up a middle class, in between commissioned officers and non-commissioned officers. Warrant officers often have more specialized roles than COs, and are afforded many of the same privileges of rank as COs. NCOs are enlisted soldiers who have moved up through the ranks by virtue of their experience, demonstrated abilities or simply time served in the army. Most units are lead in the field by sergeants.
Official Army Ranks and Abbreviations

Commissioned Officers

Warrant Officers

Enlisted Soldiers

General of the Army (GA)

Chief Warrant Officer 5 (CW5)

Sergeant Major of the Army (SMA)

General (GEN)

Chief Warrant Officer 4 (CW4)

Command Sergeant Major (CSM)

Lieutenant General (LTG)

Chief Warrant Officer 3 (CW3)

Sergeant Major (SM)

Major General (MG)

Chief Warrant Officer 2 (CW2)

First Sergeant (1SG)

Brigadier General (BG)

Warrant Officer 1 (WO1)

Master Sergeant (MSG)

Colonel (COL)

Sergeant First Class (SFC)

Lieutenant Colonel - (LTC)

Staff Sergeant (SSG)

Major (MAJ)

Sergeant (SGT)

Captain (CPT)

Corporal (CPL)

First Lieutenant (1LT)

Specialist (SPC)

Second Lieutenant (2LT)

Private First Class (PFC)

Private E-2 (PV2)

Private E-1 (PV1)
To learn more about the responsibilities of each Officer and Soldier ranking, check out U.S. Army Symbols and Insignia.
Learn about signing up for the Army and training in the next section.
Advertisement