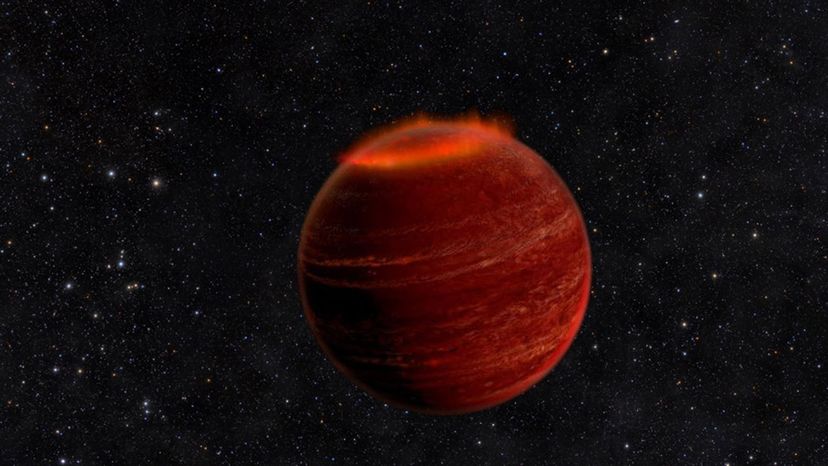 When is something too small to be a star, yet too massive to be a planet? When it's a brown dwarf, otherwise known as a "failed star." But if you think the failed star moniker is a little pessimistic, you'll be excited to hear that astronomers have discovered a special brown dwarf that's more starlike than we ever thought a brown dwarf could be.
Brown dwarfs are an exotic kind of celestial object. Thought to have approximate masses between 13 and 80 Jupiters, they can be defined neither as massive planets nor tiny stars; they're entirely different substellar curiosities that possess qualities of both. They're the bridge between the most massive planets and the tiniest of stars.
Stars are stars because they're massive enough (and therefore have strong enough gravities) to sustain fusion in their dense cores. Our sun, for example, is a "yellow dwarf" star that is approximately halfway through its 10-billion-year life span, fusing 600 million tons (544 million metric tons) of hydrogen per second.
Astronomers classify stars according to their luminosity (brightness) and their surface temperature on the Hertzsprung-Russell Diagram. Starting at the brightest and hottest (a surface temperature of around 30,000 Kelvin) are "O" class stars, then "B", "A", "F", "G", "K" to "M" in descending order of temperature. Brown dwarfs start at class "M6.5" (known also as late-M dwarfs, less than 3,000 Kelvin) and continue through "L", "T" and "Y" – Y being the coolest. The coolest class Y dwarfs can have temperatures as low as 250 Kelvin (negative 23 degrees C).
Brown dwarfs are not considered stars because they are too small to fuse hydrogen in their cores – they don't have the gravitational oomph in their core to sustain hydrogen fusion, but, depending on how massive they are, they do have enough mass to sporadically fuse elements like lithium and deuterium.