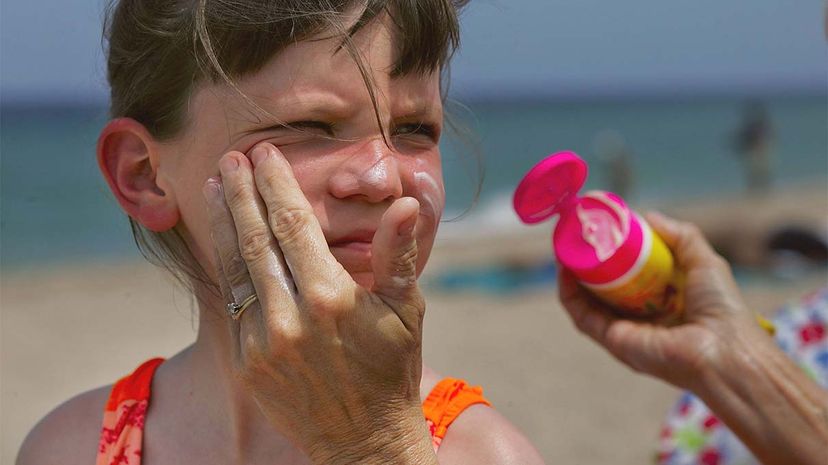 In an effort to save its at-risk coral reefs, Hawaii has become the first state to pass a law banning specific sunscreen products.
The new law prohibits the sale and distribution of sunscreens containing the chemicals oxybenzone and octinoxate. Scientists have found that these chemicals, when washed off the skin and into the ocean, can cause coral bleaching.
Coral reefs are fragile, yet vital, parts of the world's ecosystems, and they support the highest marine biodiversity in the world. Reefs are also essential to more than half a billion people who depend on them for food, jobs and recreation — with an estimated economic impact of $375 billion a year.
As early as the 1990s, scientists have examined the effects of sunscreen, and other personal products made with chemicals, on the environment. And a globe-spanning 2015 study examined coral reefs in the U.S. Virgin Islands, Israel and Hawaii, and found that oxybenzone significantly leaches coral of nutrients. Some ecotourism sites and private resorts in the tropics already prohibit similar products.
Democrat Sen. Mike Gabbard of Hawaii introduced Senate Bill No. 2571, whose text states, "These chemicals have also been shown to degrade corals' resiliency and ability to adjust to climate change factors and inhibit recruitment of new corals."
"When you think about it, our island paradise, surrounded by coral reefs, is the perfect place to set the gold standard for the world to follow," Gabbard told the Honolulu Star-Advertiser.
An NPR article found that the chemicals appear in "more than 3,500 of the world's most popular sunscreen products," including those produced by the brands Hawaiian Tropic, Coppertone and Banana Boat, and different estimates place the number of products between 40 and 70 percent of products currently on the market.
The proposed ban fairly exhaustively "includes but is not limited to lotion, paste, balm, ointment, cream, solid stick applicator, brush applicator, roll-on applicator, aerosol spray, non-aerosol spray pump, and automated and manual mist spray."
The bill passed both chambers of the state legislature; Hawaii's 25 state senators voted for the bill unanimously, while only four of the 51 members of the state's House of Representatives voted against it. If signed by Governor David Ige, the bill will take effect Jan. 1, 2021, and Hawaii will become the first state to enact such a law, perhaps setting the stage for more coastal states to take action.
Sunscreen is not the only factor putting reefs at risk; scientists have shown CO2 emissions and ocean temperatures also affect the ecosystems.