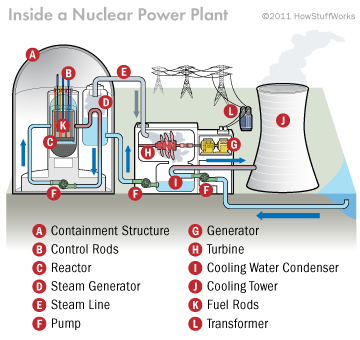 Not sure how a nuclear power plant works? Click next and we'll take a tour of one.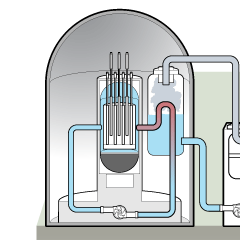 This is pretty much ground zero for a nuclear reactor. The overarching structure is called the containment vessel. With its layers of thick concrete and steel, it's intended to protect against radiation leaking into the environment. You can also see the reactor itself.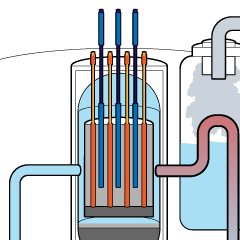 Now we're looking at the very core of the reactor, the coolant-filled vat where the fuel and control rods are located. The fuel rods are drawn in red and the control rods are blue. Moving the control rods regulates the rate of the nuclear reaction (and the heat generated). Submerging the control rods shuts down the power plant completely.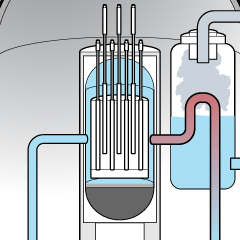 The blue pipe on the left pumps cold coolant into the reactor core while the red pipe on the right draws hot coolant into the steam generator, the second vessel you see here. The pumps that keep coolant flowing throughout the system are critical to the safe functioning of a nuclear reactor.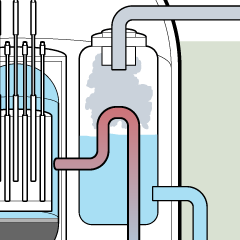 The steam generator then sends the collected steam to the turbine by way of a steam line (at top).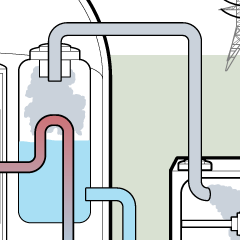 At last, the steam drives a turbine.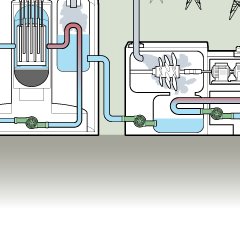 In this picture, we get a good look at the turbine (above) and the cooling water condenser (below). The condenser ultimately will send the newly cooled liquid it produces back to the steam generator to maintain the core temperatures needed there.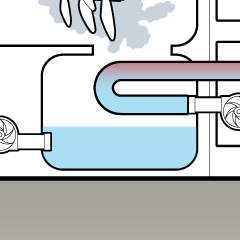 The cooling water condenser also sends coolant to the coolant tower.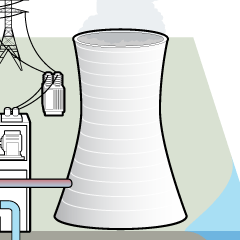 The coolant tower does what its name implies -- decreases the temperature of the liquid moving through it so it's ready to head back toward the condenser or, in some models, be discharged into the environment. The vapor that you see rising from a cooling tower is just ordinary water.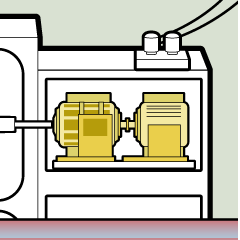 Pictured here are the generators, which eventually connect to transformers. Finally, (nuclear) power for the people. To learn more, check out How Nuclear Power Works.