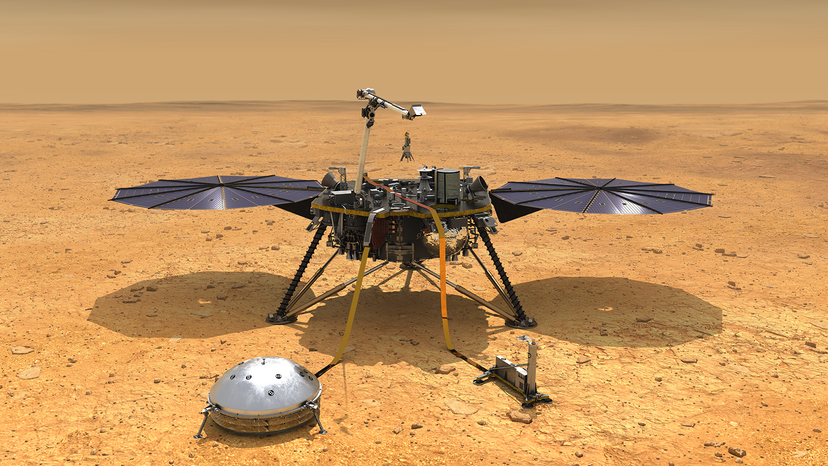 The Martian space robot family had a new addition on Monday, Nov. 26, after NASA's InSight mission made a dramatic entrance into the red planet's atmosphere and stuck a picture-perfect landing on a flat plain near the equator.
After cruising through interplanetary space for nearly seven months and over 300 million miles (483 million kilometers) inside its protective aeroshell, the $850 million robotic mission entered the wispy upper atmosphere like a speeding bullet. It was protected by its heatshield, which skyrocketed to temperatures of nearly 3,000 degrees Fahrenheit (1,649 degrees Celsius) – heated by the extreme friction between atmospheric gases and invading spacecraft.
Cozy inside its protective shell, the lander prepared for the next step of its descent onto Mars: deployment of its hypervelocity parachute, which slowed the robot before explosive bolts jettisoned the spent heatshield. Then, rapidly, the lander cut free of its aeroshell and dropped – in freefall for a few seconds – before its retrorockets fired, with its onboard radar guiding the lander to the ground at a pedestrian pace of only 5 miles per hour (8 kilometers per hour).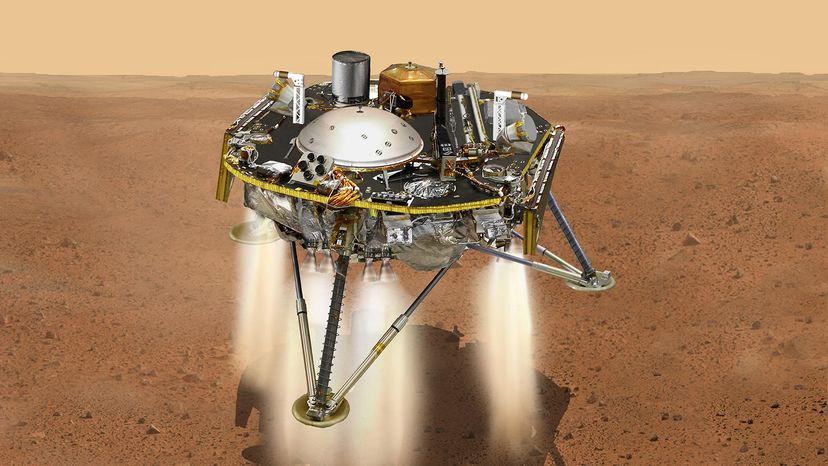 At precisely 11:52:59 a.m. PST (2:52:59 p.m. EST), InSight's three legs planted themselves into the dusty surface of Elysium Planitia – its new "forever home" near the Mars equator and north of NASA's Mars rover Curiosity, which is currently exploring Gale Crater.
"We hit the Martian atmosphere at 12,300 miles per hour, and the whole sequence to touching down on the surface took only six-and-a-half minutes," said Tom Hoffman, InSight project manager at Jet Propulsion Laboratory, during a post-landing press conference. "During that short span of time, InSight had to autonomously perform dozens of operations and do them flawlessly, and by all indications that is exactly what our spacecraft did."
Although the lander accomplished the fiery re-entry by itself, it did have a little help from two small cubesats that were flying in tandem with the mission during its cruise phase.
To communicate with Earth, Martian surface missions use orbiting satellites (such as NASA's Mars Odyssey orbiter) to relay data across interplanetary space. But at the time of InSight's landing, no orbiters were flying overhead to relay the valuable data streaming from the mission's entry, descent and landing (EDL). Anticipating this problem, a pair of cubesats, called Mars Cube One (or MarCO-A and MarCO-B), launched with InSight to watch over the lander as it entered the Martian atmosphere to beam the EDL telemetry data back to Earth in near real time.
Although the MarCO cubesats weren't vital to the survival of the mission, they provided NASA with invaluable observations of InSight's EDL – while limiting the agonizing wait for news of a successful landing. They also were able to snap images during their time in space, the last was from nearly 5,000 miles (8,000 kilometers) from Mars just as InSight was approaching the Martian atmosphere.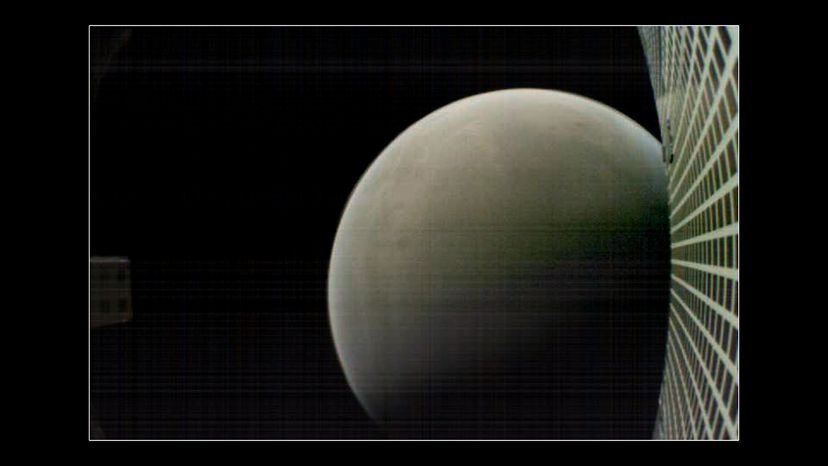 "MarCO is a technology demonstration and, as a secondary payload on the mission, our primary goal is to do no harm to the primary payload," said Brian Clement, MarCO engineer at JPL. "Performing as the communications relay during EDL is a proof of this concept." Now that this concept has been proven, Clement added that future robotic missions may be inspired to use cubesats in this fashion.