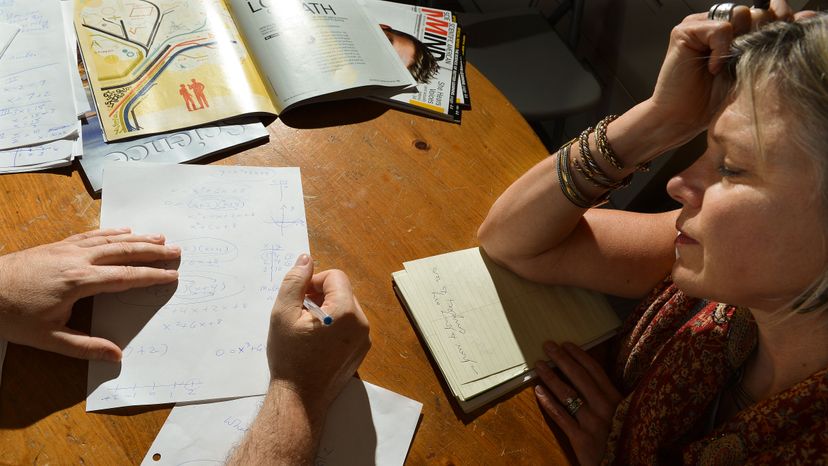 The waiter is waiting.
You're at a restaurant with a group of friends and you generously offered to pick up the check. Only you forgot how much you hate calculating the tip! Now the waiter is impatiently peering over your shoulder as you fumble with basic division and addition, hoping your friends don't notice how red your face is turning, and trying desperately not give the guy a 1.7 percent tip instead of 17 percent.
Math anxiety is a real thing. An estimated 25 percent of American four-year college students and 80 percent of community college students suffer from moderate to high math anxiety, defined as a negative emotional reaction to math. The cruel irony is that having math anxiety makes you even worse at math, which leads some people to avoid math at all costs — not only calculating tips and filing taxes, but dismissing all math-related careers as hopeless.
Sian Beilock is a cognitive scientist with the Human Performance Lab at the University of Chicago where she's conducted extensive research on math anxiety in children and adults. (She was also recently hired as the president of Barnard College at Columbia University.) When she runs brain scans on people with math anxiety, even the prospect of doing a math problem triggers a response.
"Before people even see the math problem, just knowing that it's coming, the areas of the brain that are linked to the neural pain matrix are activated," Beilock says.
In other words, math hurts.
Math anxiety starts young and sticks around. In Beilock's research, 50 percent of first- and second-graders say that math makes them nervous. And because society tells girls that they're not as good as the boys at math, that makes girls even more anxious on average. And when high anxiety leads to bad performance on math tests (which it does), people jump to the conclusion that they were born to be bad at math. Some even wear it as a badge of pride.
Beilock gets frustrated when she meets a highly intelligent colleague who brags about not being a "math person."
"You don't hear anyone bragging about not being a 'reading person,'" she says. "Unfortunately, it's socially acceptable to talk about math this way, and it perpetuates this notion that you either have it or you don't. But we know that you can get better at math by practicing and learning."