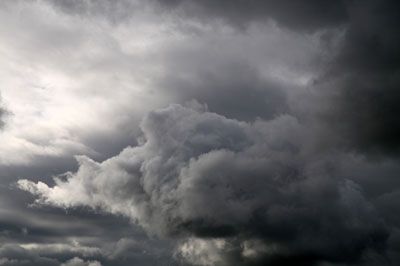 Thunderstorm clouds forming. Check out the next few pages for pictures of different types of storms.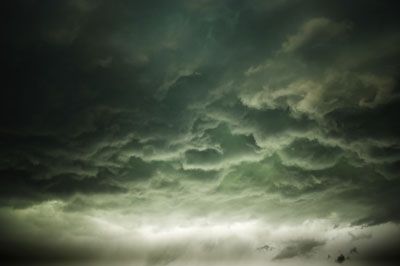 Dark storm clouds with a bright band at the bottom. Next, you can see images of common storm elements.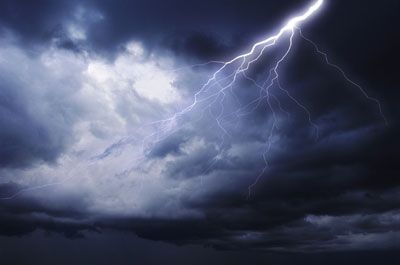 Lightning spreads across a stormy sky. Check out the next few pages for more lightning pictures.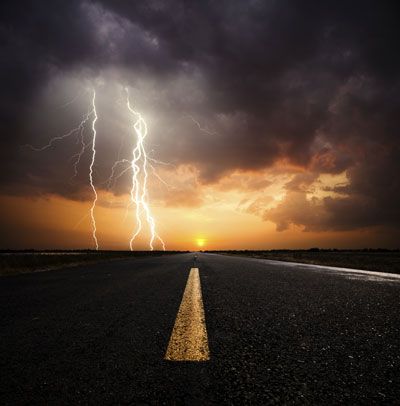 Lightning crashes at sunset. Lightning isn't the only destructive element of storms. Check out another common feature of storms on the next page.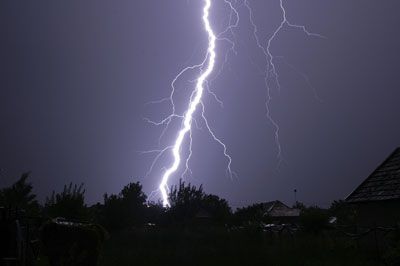 Lightning is a beautiful, but dangerous element of thunderstorms. Check out another picture of lightning on the next page.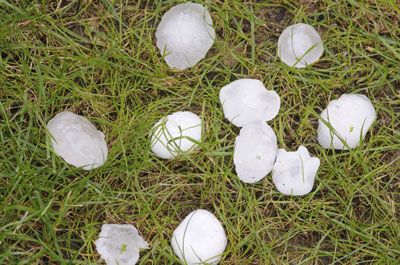 Large hail is a common element of severe thunderstorms. On the next few pages, you can see images of tornadoes.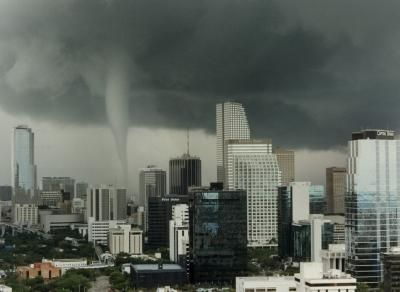 Tornadoes are some of the most incredibly violent storms on Earth and can strike anywhere. This one hit downtown Miami in 1997. Check out another picture of this tornado next.
Another shot of the Miami tornado of 1997. Tornadoes can grow to be massive in size. Check out a picture of a large tornado next.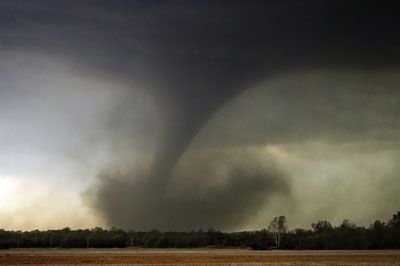 An F3 tornado sets down in a field. Tornadoes can come in all shapes and sizes. Check out an example of this next.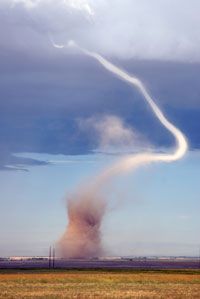 Tornado that touched down Aug 20, 2006 between Bennett and Watkin, Colorado. Tornadoes can even form over water. You can see a picture of this next.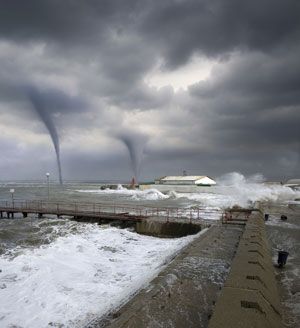 Two tornadoes form over the sea. Tornadoes can be incredibly destructive. Find out what happens when a tornado hits an urban area next.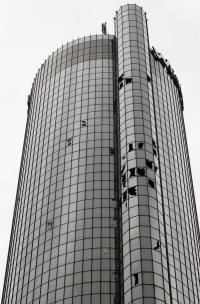 Many windows are missing from the Westin hotel after a tornado hit downtown Atlanta in 2008. See another picture of damage from the Atlanta tornado.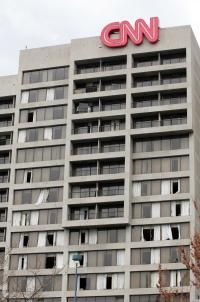 The Omni Hotel at CNN Center after a tornado touched down in Atlanta. What other types of storms cause major damage? Find out next.
Hurricanes are capable of producing much more widespread damage than a tornado. Have you ever wondered why hurricanes are given names? Find out next.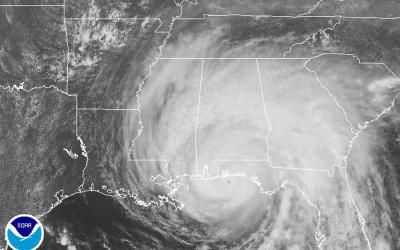 Hurricane Dennis nears landfall. Hurricanes are given names to eliminate confusion when multiple storms form. Check out images of what a hurricane hitting land looks like next.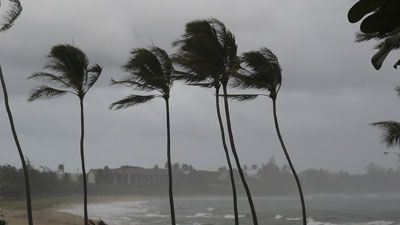 Palm trees being blown by a tropical rain storm. On the next page, you can see another image of this powerful storm.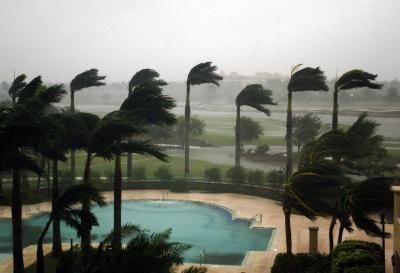 The 120 MPH sustained winds of this hurricane left a wide path of destruction. What is the most dangerous aspect of hurricanes? Find out next.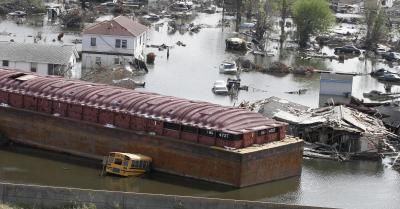 Storm surge is often what causes the most deaths and destruction during hurricanes. You can see another image of storm surge destruction next.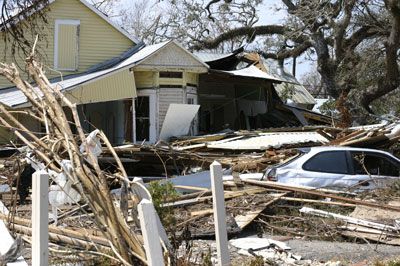 Houses lie in rubble 3 weeks after Hurricane Katrina in Bay St Louis or Waveland, Mississippi. Storms can also strike in the winter. Check out images of an ice storm on the next page.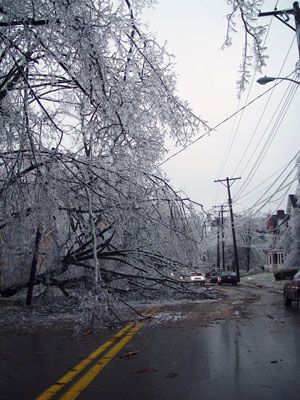 Crushed from the weight of ice from an ice storm, a tree collapses across the road. Check out another image of this storm on the next page.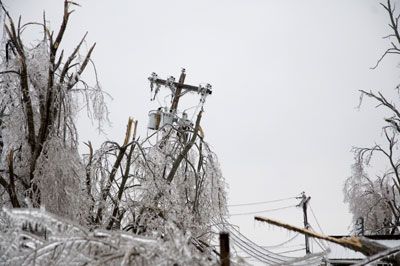 The heavy ice pulls down power lines. Another image of this ice storm can be found on the next page.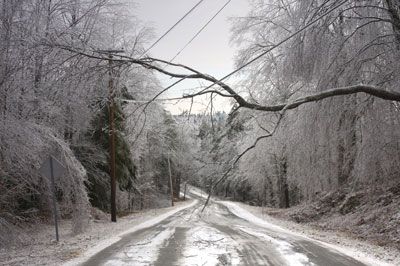 Ice storms can cause widespread power outages when trees fall on the power lines. Check out How Hurricanes Work for more information on storms.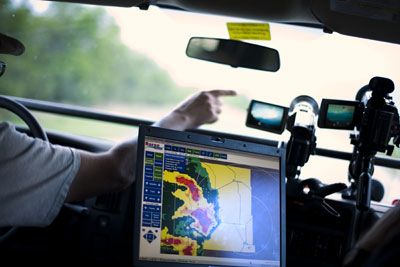 Weather-monitoring computer equipment during a storm chasing tour in Nebraska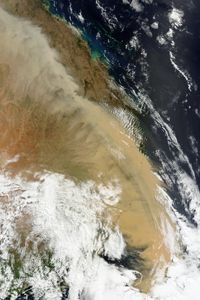 Even from space, dust storms are visible along the Australian coast on Sept. 23, 2009. This image was captured by the Moderate Resolution Imaging Spectroradiometer on the Terra satellite owned by NASA.