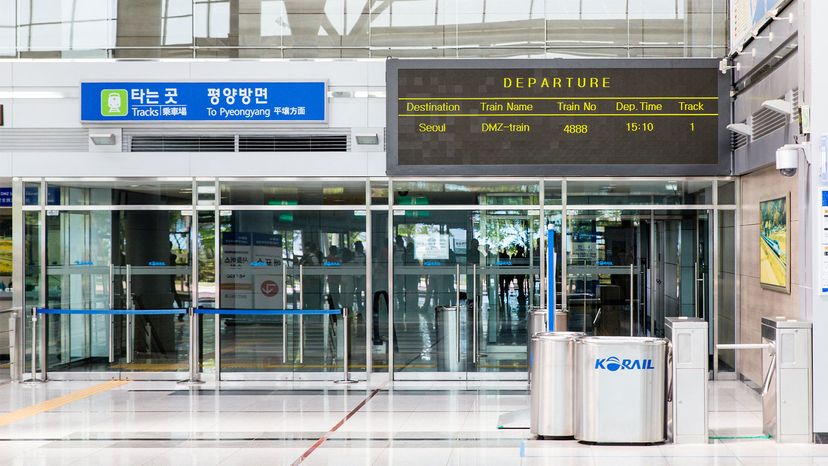 Stepping inside the Dorasan train station along the border of the demilitarized zone (DMZ) between South and North Korea is like entering an eerie time capsule frozen in 2002.
That was when South Korean President Kim Dae-jung employed his "Sunshine Policy" to warm half a century of icy relations with the communist North, leading to grand plans for an inter-Korean railway that would extend all the way to China and Russia. Kim won the Nobel Peace Prize for his efforts.
Flush with cash from megacorporation Hyundai, South Korea built the shiny and modern Dorasan Station — 35 miles (56 kilometers) outside of Seoul and just 710 yards (650 meters) from the DMZ — as a gateway to the North. A hopeful sign was erected on the Dorasan platform with arrows pointing to Seoul in one direction and Pyongyang in the other.
And for a few years, the station was active. No trains ran all the way to Pyongyang, but South Korean manufacturing executives embarked from Dorasan Station to visit the nearby Kaesong Industrial Complex, a mini city over the border in North Korea where 54,000 North Korean factory workers assembled products for export to the South.
Then relations soured between the North and South over U.S.-led military drills and acts of Northern retribution. The Kaesong complex was shut down in 2016 and the dreams of a passenger railway connecting the two Koreas were put permanently on hold.
But Dorasan Station remains. And visiting the station today can trigger a rollercoaster of emotions ranging from depressing to inspiring.