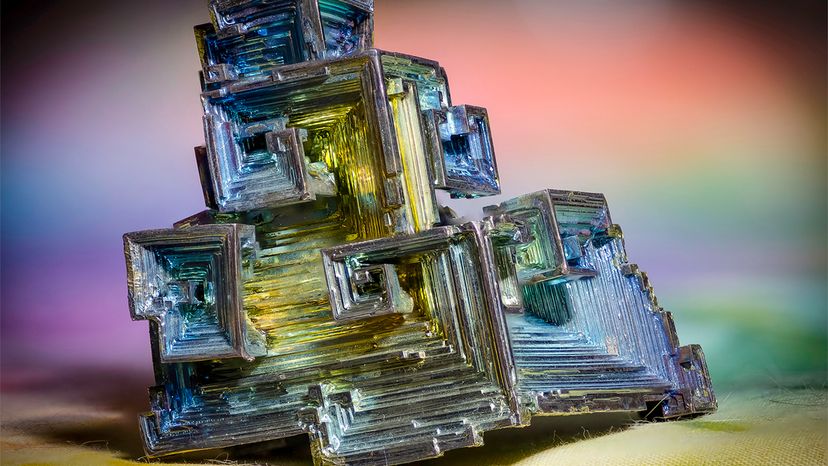 What do your tummy ache cure, your eyeshadow and your home sprinkler system have in common? All three involve an iridescent metal called bismuth.
You might have seen them for sale in the science museum gift shop: bismuth crystals — often shaped like tiny pyramids forged in some extraterrestrial laboratory. But the fact that bismuth metal forms shiny, rainbow-colored, stair-step crystals as it cools is only one of its best tricks; bismuth is less dense as a solid than it is as a liquid, unlike many metals, it's a very poor conductor of heat and electricity, and unlike most heavy metals, it's nontoxic.
Number 83 on the periodic table of elements, bismuth is a brittle, silvery metal that can be found by itself in the ground or mixed in a compound, or ore, of other metals including tin, copper, lead, silver and gold. In fact, we don't mine much bismuth for bismuth's sake — mostly because we're always having it dropped in our laps as a byproduct of mining these more valuable metals. It's about twice as common in the Earth's crust as gold.
Although bismuth was probably used in ancient meso-America and Egypt, bismuth was discovered in Europe around the year 1400 B.C. E. by an unknown alchemist — possibly one trying, as alchemists often did, to turn lead into gold. But ancient western alchemists did a lot for our understanding of chemistry, and though nobody knew exactly what this pale, heavy, opalescent metal with a low melting point was, they quickly started using it to decorate things. But it took a couple of hundred years for anybody to definitively tell the difference between bismuth and lead: It was identified as separate in 1753 by a French chemist named Claude-François Geoffroy.