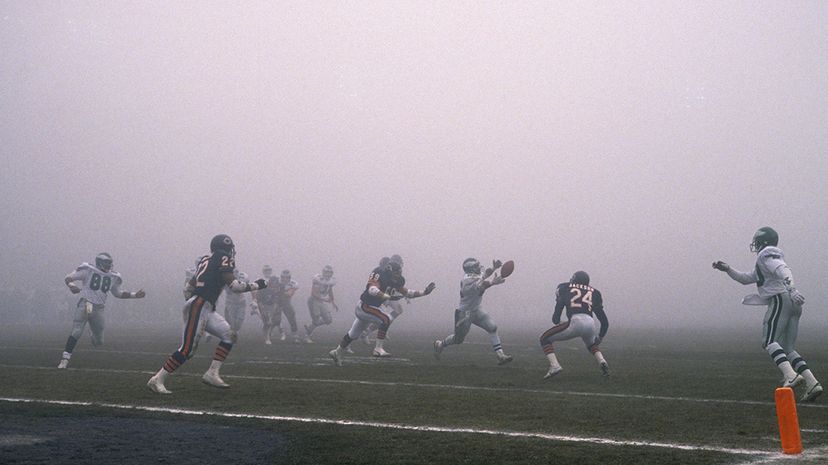 On Dec. 31, 1988, the Philadelphia Eagles met the Chicago Bears at Soldier Field. The matchup promised a lot of drama. Not only was this a playoff game, but the two teams had publicly-feuding coaches: Buddy Ryan and Mike Ditka.
So yeah, NFL fans expected to see bad blood that day. However, for a good portion of the game, people in the stands couldn't see anything. Late in the second quarter, a bank of fog rolled in from Lake Michigan and smothered the field. And refused to budge. After halftime, coaches on the sidelines actually lost sight of their own players at critical moments. And as The New York Times later reported, live TV footage of the showdown "had the grainy quality of a Western movie from the 1930s."
This infamous game is now remembered as the "Fog Bowl." But was it truly fog that descended upon Chi-Town that day, or just a thick layer of mist?
Well, "fog" and "mist" are two terms that describe different degrees of the same phenomenon: condensation. The science here is pretty interesting. Condensation is the process by which gas is turned into liquid. This happens when gas molecules lose energy and slow down. Said molecules then bond together, forming a liquid.
Now let's backtrack for a second. The gas molecules lose energy when they make contact with other, cooler molecules. Condensation is therefore linked to differences in temperature.
Most people associate the process with water vapor — and this is where fog comes into play. Fog is created when cold and warm air meet at or near ground level. There are many ways for this to occur, and therefore, several different types of fog exist.