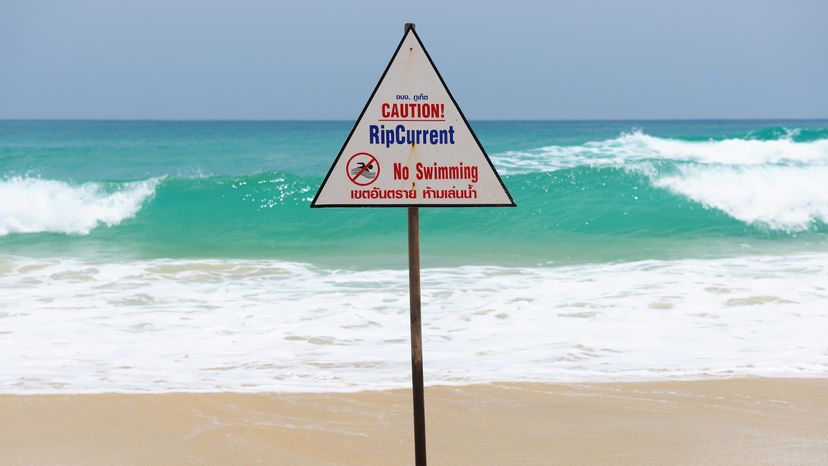 Rip currents are responsible for about 150 deaths every year in the United States. In Florida, they kill more people annually than thunderstorms, hurricanes and tornadoes combined. They are the number-one concern for beach lifeguards: About 80 percent of all beach rescues are related to rip currents.
Despite these startling statistics, many swimmers don't know anything about rip currents, and they have no idea how to survive when caught in one. In this article, we'll find out what causes rip currents, how you can recognize them and what you should do if one takes you out to sea.
A rip current is a narrow, powerful current of water running perpendicular to the beach, out into the ocean. These currents may extend 200 to 2,500 feet (61 to 762 m) lengthwise, but they are typically less than 30 feet (9 m) wide. Rip currents can move at a pretty good speed, often 5 miles per hour (8 kph) or faster.
These currents are often called "riptides," but this is a misnomer. Tides are the rising and falling of water levels in the ocean. They are primarily caused by the moon's gravitational pull, and they change gradually and predictably every day. Rip currents are caused by the shape of the shoreline itself, and they may be sudden and unexpected.
Rip currents may also be referred to as "undertow," which is just as inaccurate. Undertow describes a current of water that pulls you down to the ocean bottom. Rip currents move along the surface of the water, pulling you straight out into the ocean, but not underneath the water's surface. A rip current may knock you off your feet in shallow water, however, and if you thrash around and get disoriented, you may end up being pulled along the ocean bottom. But if you relax your body, the current should keep you near the surface.
Rip currents are terrifying because they catch you off guard: One minute you're bobbing along peacefully in the surf, the next you're being dragged out to sea at top speed. They occur in all sorts of weather and on a wide range of beaches. Unlike violent, crashing waves, you probably won't notice a rip current until you're right in the middle of it.
In the next section, we'll find out what causes this frightening phenomenon and see why it claims so many lives every year.