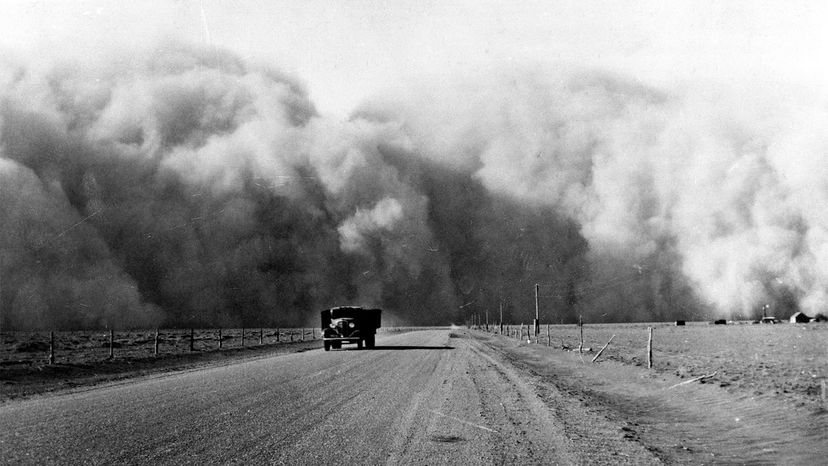 ­­When pione­ers headed west in the late 19th century, many couldn't resist the lure of the tall gras­sy land in the semiarid midwestern and southern plains of the United States. They settled there to farm. They were prosperous in the decades that followed, but when the 1930s rolled in, so did strong winds, drought and clouds of dust that plagued nearly 75 percent of the United States between 1931 and 1939 [source: Library of Congress]. The era became known as the legendary Dust Bowl.
The Dust Bowl brought ecological, economical and human misery to America during a time when it was already suffering under the Great Depression. While the economic decline caused by the Great Depression played a role, it was har­dly the only guilty party. What circumstances conspired to cause the Dust Bowl? Economic depression coupled with extended drought, unusually high temperatures, poor agricultural practices and the resulting wind erosion all contributed to making the Dust Bowl.
­The seeds of the Dust Bowl may have been sowed during the early 1920s. A post-World War I recession led farmers to try new mechanized farming techniques as a way to increase profits. Many bought plows and other farming equipment, and between 1925 and 1930 more than 5 million acres (2 million hectares)of previously unfarmed land was plowed [source: Kershner]. With the help of mechanized farming, farmers produced record crops during the 1931 season.
However, overproduction of wheat, coupled with the Great Depression, led to severely reduced market prices. The wheat market was flooded, and people were too poor to buy. Farmers were unable to earn back their production costs and expanded their fields in an effort to turn a profit. They covered the prairie with wheat in place of the natural drought-resistant grasses and left any unused fields bare.
But plow-based farming in this re­gion cultivated an unexpected yield: The loss of fertile topsoil that literally blew away in the winds, leaving the land vulnerable to drought and inhospitable for growing crops. In a brutal twist of fate, the rains stopped. By 1932, 14 dust storms, known as black blizzards were reported, and in just one year, the number increased to nearly 40.
­Millions of people fled the region. The government enacted aid programs to help, but it wasn't until 1939 when the rain returned that relief came. Next we'll explore the migration and the measures taken to save the heartland.