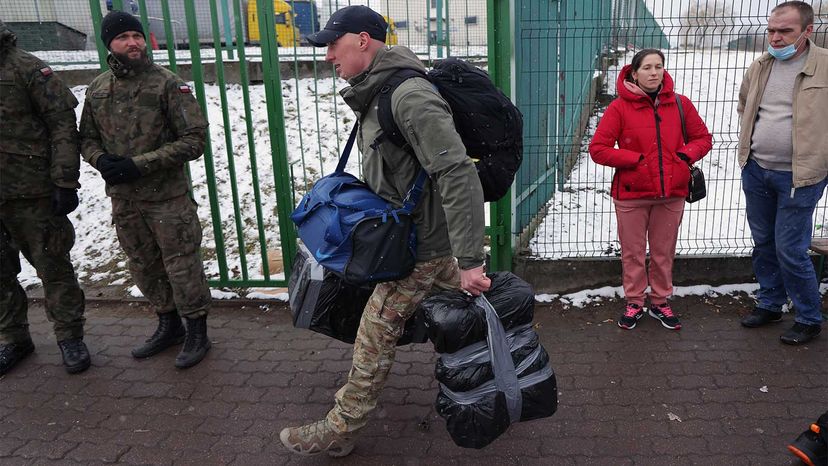 After Russian forces invaded Ukraine in February, the Ukrainian government sought assistance from NATO and the rest of the world. But in addition to anti-aircraft and anti-tank missiles and other armaments that the U.S. and its NATO allies provided, the Ukrainians asked for something else — volunteers.
"Anyone who wants to join the defense of Ukraine, Europe and the world can come and fight side by side with the Ukrainians against the Russian war criminals," Ukrainian President Volodymyr Zelenskyy implored in a Feb. 27 statement. Zelenskyy went on to explain that a 2016 Ukrainian law gave foreigners the right to enlist in the nation's Territorial Defense Forces. "There is no greater contribution which you can make for the sake of peace," he said.
Ukrainian foreign minister Dmytro Kuleba also tweeted Feb. 27, for foreigners to fight for Ukraine: "Together we defeated Hitler, and we will defeat Putin, too."
Ukraine even set up a recruiting website, Fightforua.org that gives a seven-step set of instructions for Americans and other foreigners who want to sign up for combat against the Russians. Official applicants need to contact a Ukrainian embassy in their country and show up for an interview, provide documents to show they have past military or law enforcement experience, and gather their own military gear such as helmets and body armor, before making the trip to join the new International Legion of Defense of Ukraine.
In the first week after Zelenskyy's call for help, 20,000 volunteers took Ukraine up on that offer, according to a tweet from the Kyiv Independent news outlet. In addition, others — many without any military experience — simply traveled to Ukraine on their own, as this Washington Post article details.
U.S. Veteran Matthew Parker told VOA News he wanted to go because he served with a Ukrainian American soldier in Iraq during his 22 years in the army. "He became an American citizen, joined the Army and he told me about his home," Parker told VOA in early March. "I'd like to think that by going to Ukraine, maybe I protect his mother or his little sister or his home. Maybe in some small way, I say thank you to him for serving by doing something like this."