Current Trends in Chocolate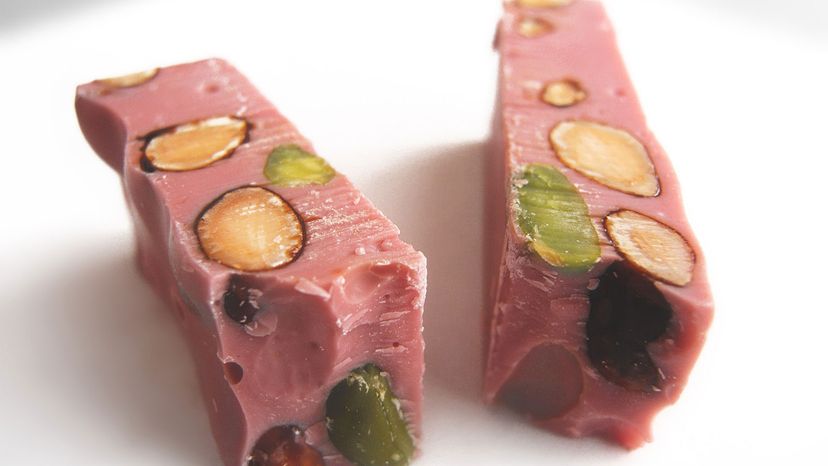 Ruby chocolate, a pink chocolate with "berry" notes was introduced to the world in 2017. The one pictured has pistachios and almonds.
Zacharie Grossen/Wikimedia/CC By-SA 4.0
Food product standards have skyrocketed in recent years, with many people turning to organic options to get their fix. The chocolate market is no exception, and as a result the premium chocolate category has consistently posted impressive growth, with an 11 percent uptick from 2018 to 2019. On a smaller scale, non-GMO chocolates and those that support fair trade agreements have also enjoyed growth [source: National Confectioners Association].
Here are some of the current trends in chocolate production:
Related Articles
Sources
Abesamis, Abigail. "What's Fancy Chocolate Made of That Makes it So Expensive?" HuffPost. Aug. 28, 2018 (April 24, 2019) https://www.huffpost.com/entry/fancy-chocolate-expensive_n_5b7d8c4de4b07295150f25c6

Beckett, T.S. "The Science of Chocolate." Royal Society of Chemistry. 2000.

Bensen, Amanda. "A Brief History of Chocolate." Smithsonian.com. March 1, 2008. (Feb. 6, 2012) http://www.smithsonianmag.com/arts-culture/brief-history-of-chocolate.html

Cadbury. "Cadbury Dairy Milk." 2019 (April 24, 2019) https://www.cadbury.co.uk/products/cadbury-dairy-milk-11294

Cadbury. "Chocolate Making." Kraft Foods Australia. 2012. (Feb. 6, 2012) http://www.cadbury.com.au/About-Chocolate/Chocolate-Making.aspx

Candy History. "The History of Candy Bars." 2019 (April 23, 2019) http://www.candyhistory.net/candy-origin/candy-bars-history/

Candy Industry. "Chocolate trends: Popular flavors, growing claims and reconnecting with adults." 2019 (April 23, 2019) https://www.candyindustry.com/articles/87183-chocolate-trends-popular-flavors-growing-claims-and-reconnecting-with-adults

Cornell University. "Chocolate: Food of the Gods." 2007 (April 23, 2019) http://exhibits.mannlib.cornell.edu/chocolate/houten.php

Donahoo, Daniel. "The Science and Art of Chocolate Making." Wired Magazine. Dec. 19, 2011. (Feb. 6, 2012) http://www.wired.com/geekdad/2011/12/choc-science/

ecole chocolat. "Lesson: How Chocolate is Made." 2019 (April 23, 2019) https://www.ecolechocolat.com/en/how-chocolate-is-made.html

Fiegl, Amanda. "A Brief History of Chocolate." Smithsonian Magazine. March 1, 2008 (April 23, 2019) https://www.smithsonianmag.com/arts-culture/a-brief-history-of-chocolate-21860917/

Field Museum. "All About Chocolate: From Seed to Sweet." The Field Museum. 2007. (Feb. 6, 2012) http://archive.fieldmuseum.org/chocolate/kids_seedtosweet.html

Garthwaite, Josie. "What We Know About the Earliest History of Chocolate." Smithsonian Magazine. Feb. 12, 2015 (April 23, 2019) https://www.smithsonianmag.com/history/archaeology-chocolate-180954243/

Garnsworthy, Al. "The Different Varieties of Cocoa Beans: Criollo, Trinitario & Forastero." The Chocolate Society. Oct. 23, 2010 (April 23, 2019) https://www.chocolate.co.uk/blogs/news/the-different-varieties-of-cocoa-beans-criollo-trinitario-and-forastero

Gonzalez, Elaine. "The Art of Chocolate." Chronicle Books. 1998.

Gourmet Boutique. "European vs. American Chocolate: What's the Difference?" July 3, 2013 (April 24, 2019) https://www.gourmetboutique.net/blogs/tasting-room/17250043-european-vs-american-chocolate-whats-the-difference

Grenada Chocolate. "Tour." Grenada Chocolate. 2011. (Feb. 6, 2012) http://www.grenadachocolate.com/

Grewling, Peter. "Chocolates and Confections." John Wiley & Sons. March 2007.

Harvard. "Dark Chocolate." 2019 (April 24, 2019) https://www.hsph.harvard.edu/nutritionsource/food-features/dark-chocolate/

Hershey's. "The Simple Promise." 2019 (April 24, 2019) https://www.hersheys.com/en_us/our-story/our-ingredients.html

International Cocoa Organization. "Chocolate Use in Early Aztec Cultures." Jan. 8, 2011 (April 23, 2019) https://www.icco.org/faq/54-cocoa-origins/133-chocolate-use-in-early-aztec-cultures.html

International Cocoa Organization. "How Exactly is Cocoa Harvested?" May 26, 1998 (April 23, 2019) https://www.icco.org/faq/58-cocoa-harvesting/130-how-exactly-is-cocoa-harvested.html

Lindt. "Lindt Frequently Asked Questions." 2019 (April 24, 2019) https://www.lindt.co.uk/help/lindt-frequently-asked-questions/

Lindt. "The Lindt Invention: Conching." 2019 (April 23, 2019) https://www.lindt.co.uk/world-of-lindt/experience-lindt/world-of-lindtexperience-lindtthe-lindt-difference/the-lindt-invention-conching/

Markets and Markets. "Cocoa Market worth $2.1 Billion & Chocolate Market worth $131.7 Billion by 2019." 2019 (April 24, 2019) https://www.marketsandmarkets.com/PressReleases/cocoa-chocolate.asp

Nanci, John. "Alchemist's Notebook." Chocolate Alchemy. 2012. (Jan. 28, 2012) http://www.chocolatealchemy.com/

National Confectioners Association. "Inside the World of Craft Chocolate." Candy & Snack Today. 2019 (April 24, 2019) https://www.candyusa.com/nca-news/cst/defining-craft-chocolate/

Notter, Ewald. "The Art of the Chocolatier." John Wiley & Sons. January 2011.

Robles, Frank. "Introducing Cacao." Chocolate.org. Aug. 10, 2017 (April 23, 2019) https://www.chocolate.org/blogs/chocolate-blog/chocolate-and-the-aztecs

Science of Cooking. "How is Chocolate Made?" 2019 (April 23, 2019) https://www.scienceofcooking.com/chocolate/how-is-chocolate-made.htm

Science of Cooking. "What is the Maillard Reaction?" 2019 (April 23, 2019) https://www.scienceofcooking.com/maillard_reaction.htm

Silberner, Joanne. "In Search of the Healing Power of Chocolate." NPR. Dec. 15, 2005. (Feb. 6, 2012) http://www.npr.org/templates/story/story.php?storyId=5053576

Simon Frasier University. "The World Atlas of Chocolate." SFU. 2003. (Feb. 6, 2012) http://www.sfu.ca/geog351fall03/groups-webpages/gp8/intro/intro.html

Sowden, Jim. "15 Things You Didn't Know About Chocolate." Ecosalon. Jan. 16, 2009. (Feb. 12, 2012) http://ecosalon.com/chocolate-strange-bizarre-and-weird-facts-and-uses/

Spadaccini, Jim. "The Sweet Lure of Chocolate." The Exploratorium. 2011. (Feb. 6, 2012) http://www.exploratorium.edu/exploring/exploring_chocolate/index.html

Tulane University. "Tulane University releases report on child labor in West African cocoa production." July 30, 2015 (April 23, 2019) http://www2.tulane.edu/news/releases/tulane-releases-report-on-child-labor-in-west-african-cocoa-production.cfm

Watrous, Monica. "Spice is Nice, but Complexity is Key." Food Business News. April 23, 2019 (April 24, 2019) https://www.foodbusinessnews.net/articles/13646-spice-is-nice-but-complexity-is-key