The Packbot is another small robot that operates on treads. It's even smaller and lighter than the TALON, weighing in at about 40 lbs (18 kg) in the basic Scout configuration. Packbot is man-portable and is designed to fit into the U.S. Army's new standard pack, the Modular Lightweight Load Carrying Equipment (MOLLE).
Controlled by a Pentium processor that has been designed specially to withstand rough treatment, Packbot's chassis has a GPS system, an electronic compass and temperature sensors built in. Packbot manufacturer iRobot says Packbot can move more than 8 mph (13 kph), can be deployed in minutes and can withstand a 6-foot (1.8-meter) drop onto concrete -- the equivalent of 400 g's of force.
U.S. soldiers regularly take advantage of this ruggedness, tossing Packbot through windows of hostile buildings and then using it to search and find out where enemy combatants are hiding. Even if Packbot lands upside down, it can right itself using powerful treaded flippers, which also help it climb obstacles.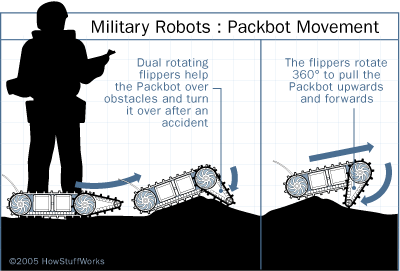 Packbot comes in several different versions in addition to the basic Scout unit. Packbot Explorer adds a square "head" that can raise up on a metal arm, pan and tilt, provide gun-sighting video and generally act as a lookout for soldiers who need to peer over obstacles or around corners. Packbot EOD is used to disarm or safely detonate dangerous explosives. It uses a mechanical arm with a gripping hand plus a full range of audio and visual sensors.
With eight modular payload ports, Packbot is built for further customization.
For complete Packbot specifications, see iRobot: Packbot.