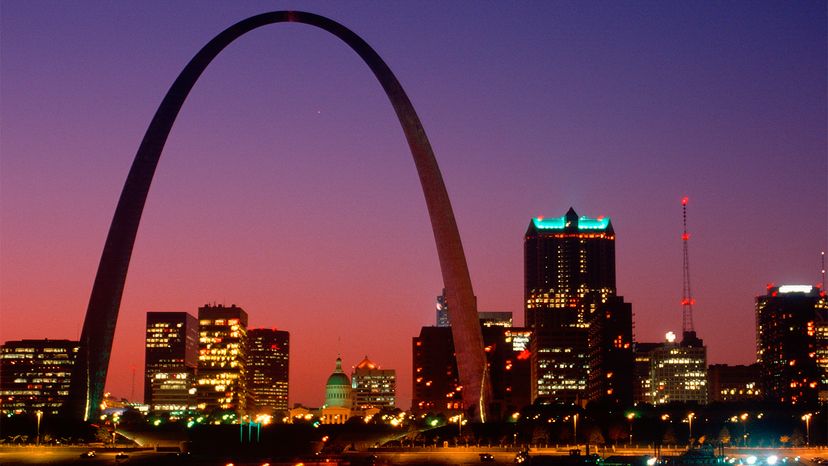 Less than half a millimeter (0.01 inches): That's the margin of error welders had to work with when inserting the last piece of the towering St. Louis monument formally known as the Gateway Arch. The swooping, 630-foot (192-meter) landmark appears smooth and seamless, but its two legs were built separately from stainless steel shipped via train from Pennsylvania. When construction kicked off in 1961, many predicted an epic failure was inevitable — after all, how could workers ensure they'd leave just the right amount of space for the final piece with virtually no wiggle room for mistakes?
Somehow the team pulled it off, securing the Gateway Arch's enduring reputation as America's tallest monument and the world's tallest arch. The ambitious endeavor was the product of American-Finnish architect Eero Saarinen's contest-winning design. But the bigger story of the arch's origin is kind of wild.
"Gateway Arch National Park is an unusual National Park Service site," says NPS historian Bob Moore. "Its origins were equally out of the ordinary. The idea for the park was generated in the early 1930s by a bespectacled, middle-aged lawyer and self-proclaimed 'do-gooder' named Luther Ely Smith, who wanted to beautify the rundown St. Louis riverfront. In the era before commercial aviation was common, the riverfront area was the first glimpse those in automobiles and trains had as they approached the city."
According to Moore, the area as it stood in the early '30s wasn't making any good impressions. "It was not a pretty sight, and did not make visitors think that St. Louis was one of the great American cities," he says. "The riverfront buildings were rundown and ancient in appearance." As modern barges replaced the old-timey paddle-wheel steamboats, the once-bustling harbor fell into disrepair as the action moved elsewhere. "In addition to beautifying the city, Smith also wanted to put St. Louisans back to work during the Great Depression," Moore says. "Thirdly, Smith wanted their efforts to result in a unique memorial which would draw tourists from all over the world."
Although proposals to revitalize the riverfront had been circling since 1898, Smith "had the reputation and dedication to push his own concept to reality," according to Moore. The goal at the heart of Smith's proposal was to construct a tribute to commemorate a legitimate landmark in U.S. history — the unprecedented migration during the 19th century of hundreds of thousands of people into the trans-Mississippi West, funneled through the bustling city of St. Louis, the last major metropolitan center on the edge of the frontier," Moore says.