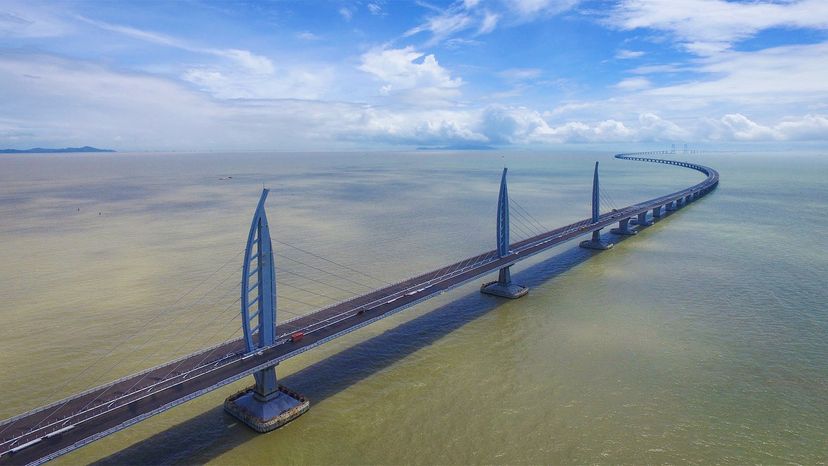 The world's longest sea-crossing bridge has opened, connecting mainland China to Hong Kong. The 34-mile (55-kilometer) bridge cost $20 billion, took nine years to construct and will reduce travel time between its three terminal locations along the Pearl River Delta — Hong Kong, Zhuhai and Macao — from 3 hours to 30 minutes.
Officially known as the Hong Kong-Zhuhai-Macao Bridge, the structure consists of three cable-stayed bridges, an undersea tunnel and four artificial islands. The bridge has been engineered to withstand earthquakes, typhoons and run-ins with shipping vessels, with 400,000 tons (363,000 metric tons) of steel used for reinforcement. By comparison, that's 4.5 times the amount of steel in San Francisco's Golden Gate Bridge, according to Travel Wire Asia.
Artificial islands were built in shallow waters to buoy the bridge's crossing; two of the islands are used as entrances and exits for a 4-mile (6.7-kilometer) tunnel through which drivers can travel under the sea's busiest shipping lane.
While the bridge removes a travel barrier for some, it puts other barriers in place for others. Private car owners in Hong Kong will require special permits to cross, or they will need to take a paid shuttle bus, and will still need to pass through immigration.
It's a political maneuver that has left some citizens and pundits wary. Some "view the bridge as a way of transferring money from taxpayers to local and Chinese oligarchs, whose construction firms built the whole project," wrote Martin Sebena, a Ph.D. student at the University of Hong Kong and a research fellow at the Institute of Asian Studies in Slovakia.
In 1997, Hong Kong — a former British territory — became a special administrative region of the People's Republic of China. China agreed to allow Hong Kong a high degree of autonomy in its economic and social systems for 50 years from the date of the handover. Similarly, in 1999, Macao — one of the oldest surviving Portuguese settlements — was turned over to China with the promise that its way of life would largely be left alone for 50 years. The bridge connecting these two territories to mainland China could have a far-reaching future impact, both politically and culturally.