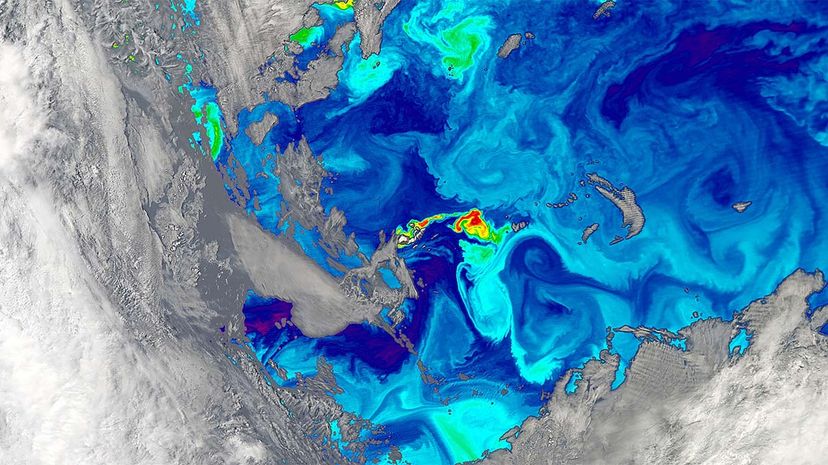 Someone gazing out at the ocean from the Maine coast sees very different hues than someone squinting at the sea from a sunny beach on a Greek island. So why does the ocean come in so many shades of blue?
First of all, as NASA oceanographer Gene Carl Feldman points out, "The water of the ocean is not blue, it's clear. The color of the ocean surface for the most part is based on depth, what's in it and what's below it."
A glass of water will, of course, appear clear as visible light passes through it with little to no obstruction. But if a body of water is deep enough that light isn't reflected off the bottom, it appears blue. Basic physics explains why: Light from the sun is made up of a spectrum of different wavelengths. The longer wavelengths appear to our eyes as the reds and oranges, while the shorter ones appear blue and green. When the sun's light strikes the ocean, it interacts with water molecules and can be absorbed or scattered. If nothing is in the water except water molecules, light of shorter wavelengths is more likely to hit something and scatter, making the ocean appear blue. The longer, red portions of sunlight, meanwhile, are absorbed near the surface.
Depth and the ocean bottom also influence whether the surface appears a dusky dark blue, as in parts of the Atlantic, or casts a sapphire-like shimmer as in tropical locations. "In Greece, the water is this beautiful turquoise color because the bottom is either white sand or white rocks," Feldman explains. "What happens is the light comes down and blue light gets down, hits the bottom and then reflects back up so you make this beautiful light blue color in the water."