What Is Hypnosis?
People have been pondering and arguing over hypnosis for more than 200 years, but science has yet to fully explain how it actually happens. We see what a person does under hypnosis, but it isn't clear why he or she does it. This puzzle is really a small piece in a much bigger puzzle: how the human mind works. It's unlikely that scientists will arrive at a definitive explanation of the mind in the foreseeable future, so it's a good bet hypnosis will remain something of a mystery as well.
But psychiatrists do understand the general characteristics of hypnosis, and they have some model of how it works. It is a trance state characterized by extreme suggestibility, relaxation and heightened imagination. It's not really like sleep, because the subject is alert the whole time. It is most often compared to daydreaming, or the feeling of "losing yourself" in a book or movie. You are fully conscious, but you tune out most of the stimuli around you. You focus intently on the subject at hand, to the near exclusion of any other thought.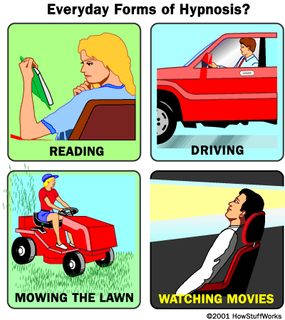 In the everyday trance of a daydream or movie, an imaginary world seems somewhat real to you, in the sense that it fully engages your emotions. Imaginary events can cause real fear, sadness or happiness, and you may even jolt in your seat if you are surprised by something (a monster leaping from the shadows, for example). Some researchers categorize all such trances as forms of self-hypnosis. Milton Erickson, the premier hypnotism expert of the 20th century, contended that people hypnotize themselves on a daily basis. But most psychiatrists focus on the trance state brought on by intentional relaxation and focusing exercises. This deep hypnosis is often compared to the relaxed mental state between wakefulness and sleep.
In conventional hypnosis, you approach the suggestions of the hypnotist, or your own ideas, as if they were reality. If the hypnotist suggests that your tongue has swollen up to twice its size, you'll feel a sensation in your mouth and you may have trouble talking. If the hypnotist suggests that you are drinking a chocolate milkshake, you'll taste the milkshake and feel it cooling your mouth and throat. If the hypnotist suggests that you are afraid, you may feel panicky or start to sweat. But the entire time, you are aware that it's all imaginary. Essentially, you're "playing pretend" on an intense level, as kids do.
In this special mental state, people feel uninhibited and relaxed. Presumably, this is because they tune out the worries and doubts that normally keep their actions in check. You might experience the same feeling while watching a movie: As you get engrossed in the plot, worries about your job, family, etc. fade away, until all you're thinking about is what's up on the screen.
In this state, you are also highly suggestible. That is, when the hypnotist tells you do something, you'll probably embrace the idea completely. This is what makes stage hypnotist shows so entertaining. Normally reserved, sensible adults are suddenly walking around the stage clucking like chickens or singing at the top of their lungs. Fear of embarrassment seems to fly out the window. The subject's sense of safety and morality remain entrenched throughout the experience, however. A hypnotist can't get you to do anything you don't want to do.
But what is it that makes this happen? In the next section, we'll look at the most widely accepted theory of what's going on when you become hypnotized.