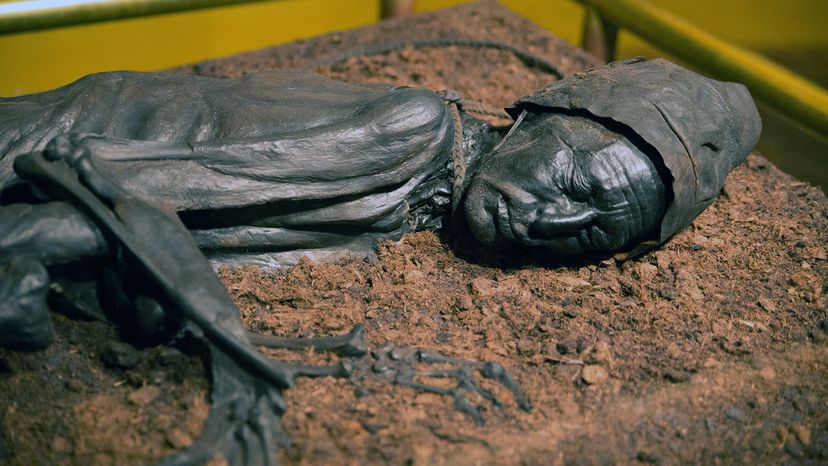 Bogs are monuments to death; they're created by generations of dead, buried plants. They're also havens for mummies. Artifacts buried beneath bogs — including human bodies — may be kept in astonishingly good condition for thousands and thousands of years. They've all got stories to tell, and today we'll look at the weird science that makes their preservation possible.
Common in cool, wet parts of the world, bogs are waterlogged grounds that form when decaying plant matter — known as peat — accumulates in a low-lying areas. Bogs are usually found in cool climates and often in lake basins created by ice age glaciers that no longer get a steady flow of river or stream water. Over time, mosses cover the heap like a blanket, and in most cases, this mossy layer is primarily made of sphagnum.
Sphagnum moss has the power to transform an entire landscape. Water or dirt caught beneath sheets of it will stop getting a normal supply of oxygen from the atmosphere. Also, sphagnum soaks up calcium and magnesium, which makes the underlying soil and water mildly acidic.
Since bacteria and fungi find those conditions inhospitable, the dead vegetation decomposes at a phenomenally slow rate. Instead of breaking down right away, it lingers. Piling up over time, masses of the botanical waste gradually turn into peat, a soggy, mud-colored substance.
Peat can be used as animal bedding and as a fossil fuel, which makes it an important commodity in places like the Irish midlands. But to archaeologists, peat is a lot less valuable than the Homo sapiens corpses that sometimes come with it.