How Life Works: DNA and Enzymes
Evolution can be seen in its purest form in the daily evolution of bacteria. If you have read How Cells Work, then you are familiar with the inner workings of the E. coli bacteria and can skip this section. Here's a quick summary to highlight the most important points in How Cells Work: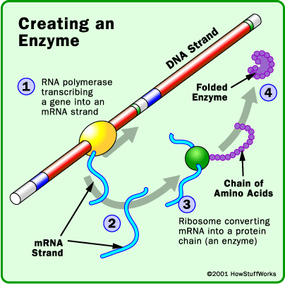 You can see that, in any living cell, DNA helps create enzymes, and enzymes create the chemical reactions that are "life."
In the next section, we'll discuss how bacteria reproduce.