Riding in the Belly of the Beast
The M2 Infantry Fighting Vehicle has a three-man crew, including a commander, gunner and driver. The original M2 also carries seven, fully equipped soldiers. The enhanced M2A2 carries six soldiers. The M3 Cavalry Fighting Vehicle has the same three-man crew, but only accommodates two additional soldiers.
Inside the vehicle, the driver sits in the left front of the hull in a two-thirds reclining position. The only vision available to the crew is periscopes. The driver's station has four periscopes. The center periscope can be interchanged with a night vision scope.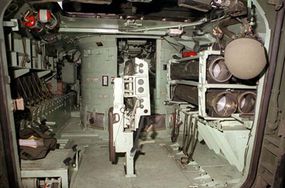 The commander sits to the right of the main armament. An M13A1 filter is located in the commander's station to provide breathable air in case of a gas attack. The gunner is located to the left of the turret. The turret is a large section on top of the Bradley that is equipped with a machine gun (more on firepower later). Two-power day/thermal sights and the customary periscopes are available to the gunner. The gunner's view also includes an optical relay to the commander.
A compartment for transported troops is in the back of the vehicle. This compartment includes a single-piece hatch in the roof and a hydraulically operated rear ramp for troop entry and exit. The M2 also features six firing ports.
The Bradley is equipped with an automatic fire detection and suppression system, which is also included in the engine compartment, as well as a central nuclear, biological and chemical protective suite.
The entire Bradley is covered with aluminum armor, and the rear and sides are also covered with spaced laminate armor. The turret has an additional layer of steel, and the hull bottom has additional anti-mine armor.