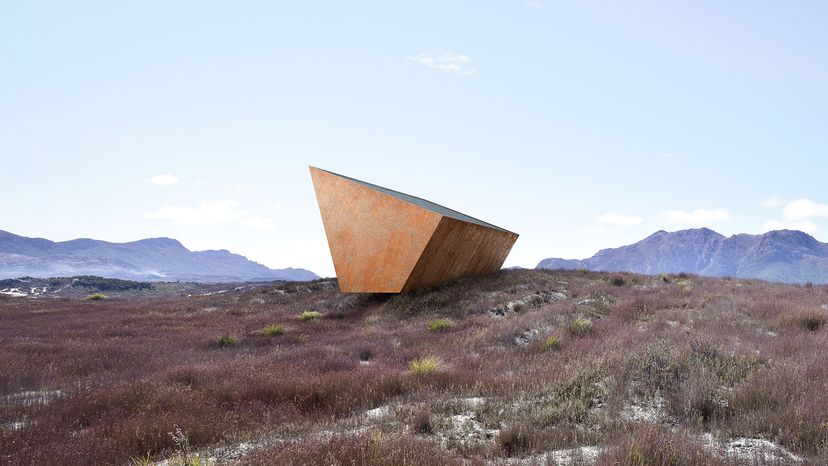 In autumn 2021, as leaders from across the globe converged on Glasgow to talk about the impact of human-caused climate change, a coalition of artists, architects and researchers in Australia devised a way to document the apocalypse. How? By storing data in a massive metal monolith in Tasmania, an island off the coast of Australia.
Known as Earth's Black Box, the project, equal parts art installation and time capsule, aims to document the physical changes wrought by global warming — and humanity's geopolitical response to them.
The installation's name is a nod to a common aviation practice. Commercial airplanes and many private aircraft are equipped with a "black box" (otherwise known as a flight recorder), a mechanism that automatically logs important flight details like altitude, airspeed, time elapsed and equipment functionality. These boxes, which are usually bright orange rather than black, are designed to withstand extreme temperatures as well as immense amounts of force and pressure. They are sometimes the only objects that survive a plane crash intact, allowing investigators to reconstruct a timeline of what went wrong in the aftermath.
Earth's Black Box draws inspiration from these mechanisms. The vault will be made from specially designed, 3-inch (76-millimeter)-thick reinforced steel, chosen for its resilience to fire and water damage as well as its general toughness.
Along with the University of Tasmania and an artists' collective called the Glue Society, Clemenger BBDO, an Australian communications firm, plans to build the 33-foot (10-meter)-long vault in a remote part of western Tasmania. They chose the location for its relative geological and geopolitical stability.
"We believe it should withstand any foreseeable natural events," says Jim Curtis, executive creative director at Clemenger BBDO, via email.
Unlike an airplane's flight recorder, however, Earth's Black Box is not meant to withstand total planetary destruction — if Earth were to (somehow) explode, for instance, it probably wouldn't survive. Instead, the artists and data scientists behind the project think of it as a way to log the progression of Earth's current ecological collapse, which is already profoundly changing the environment.
"At its core, the box is intended to be a symbol of the catastrophic situation we find ourselves in," says Curtis. "And importantly, it's intended to hold our leaders to account by being an unmissable structure that reminds them that their actions — or inaction — will be recorded for generations to come."
The box will record two types of data: primary and contextual. The primary data will consist of the planet's vital signs, ranging from daily temperatures to atmospheric carbon dioxide concentration to sea level. The contextual data, which Curtis says will be drawn from sources like government documents, social media and pieces of journalism, is intended to show world leaders' responses (or lack thereof) to the climate crisis.