The sun sets on a field in southern England. When it rises again the following morning, that field is an enormous work of art. A large section of the crop is now elaborate patterns of circles, rings and other intricate geometric shapes. But who created it?
Are crop circles the work of alien visitors? Do they signal paranormal activity? Are they a natural phenomenon, which violent air currents produced? Or are they elaborate hoaxes perpetrated by savvy, talented and very determined crop circle makers? Believers and naysayers each have their own theories, but the truth remains elusive.
In this article, we'll look into the phenomenon of crop circles — what they are, where they can be found, how they are made (from the people who claim to create them) and how researchers study them in an effort to separate the supernatural from credible evidence.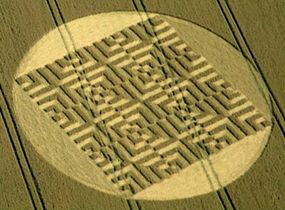 Crop circles are patterns that appear in fields. The pattern is the result of certain areas of flattened crops while others are left intact. The edge is so clean that it looks machine-made. Even though the stalks are bent, they are not damaged. Most of the time, the crop continues to grow as normal.
Sometimes, the patterns are simple circles. In other instances, they are elaborate designs consisting of several interconnecting geometric shapes.
Farmers have reported finding strange circles in their crop fields for centuries. The earliest mention of these odd patterns dates back to the 1500s. A 17th-century English woodcut shows a devilish creature making a crop circle. People who lived in the area called the creature the "mowing devil."