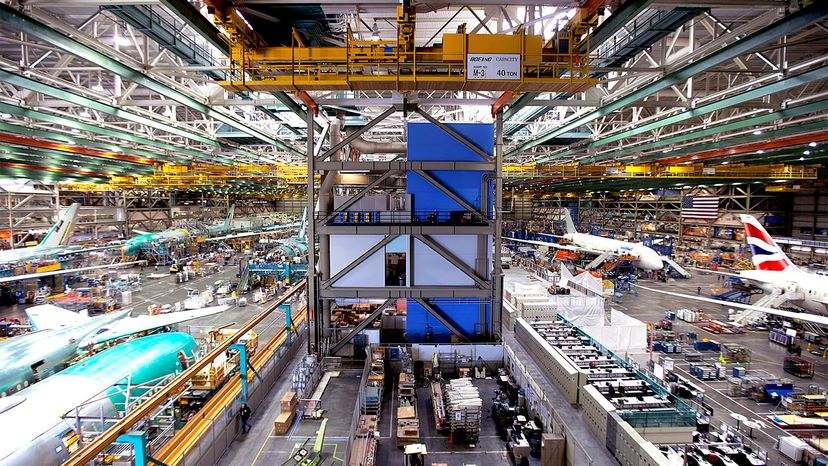 Back in the mid-1960s, aerospace giant Boeing was preparing to build the Boeing 747, the first jumbo jet, which was two-and-a-half times bigger than the largest existing airliners. The 747 would revolutionize air transportation by making it possible to fly more people and cargo at a lower cost than ever before.
But before the 747 could get off the ground, Boeing and its then-President and Chairman of the Board, William M. Allen, needed to build a facility that was huge enough to accommodate the construction of the massive plane.
Boeing considered building a new plant in California, but the 747's head engineer, Joe Sutter, reportedly argued against putting the facility that far away from Boeing's Seattle headquarters, because all that travel time might slow the project, according to this 2016 account in the Everett, Washington Herald. Instead, the company ended up picking the site of a former military airport in Everett, 22 miles (35 kilometers) north of Seattle. It was a remote area, filled with woods that were home to bears that occasionally had to be shooed away.
Working at breakneck speed, in a little more than a year, construction workers erected what was — and still is — the world's biggest factory. A railroad spur had to be built to the site to rush building materials there and haul away debris. It all cost more than $1 billion — more than Boeing was worth at the time, according to this October 2013 Airways magazine article.
"It was a tremendous feat of human resourcefulness, industry and tenacity," business journalist Russ Banham, author of the 2015 book "Higher: 100 Years of Boeing," explains in an interview.
More than half a century after its completion in 1967, Boeing's Everett factory is still producing planes and inspiring awe from the hordes of visitors who've turned it into a major Washington tourist attraction.