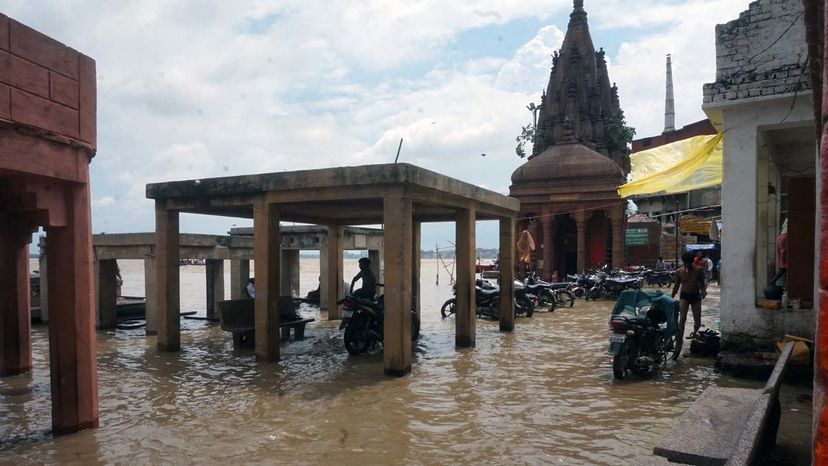 If all the glaciers and ice caps on the planet melted, global sea level would rise by about 230 feet (70 meters). That amount of water would flood nearly every coastal city around the world [source: U.S. Geological Survey]. Rising temperatures, melting arctic ice, drought, desertification and other catastrophic effects of climate change are not examples of future troubles — they are reality today. Climate change isn't just about the environment; its effects touch every part of our lives, from the stability of our governments and economies to our health and where we live.
Where would you go if, say, a flood devastated the city you live in? Millions of people around the world have been forced to answer this question. In 2017, 68.5 million people were displaced — more than at any point in human history, according to the Brookings Institute. More than one-third of those were uprooted by sudden weather events, including floods, forest fires and intense storms. A 2018 report from the World Bank, which focused on three regions — Sub-Saharan Africa, South Asia and Latin America — found that without tangible climate action, more than 143 million people in just these three areas will be forced to move to escape the impacts of climate change by 2050.
But more than 1 billion people worldwide will live in countries with insufficient infrastructure to withstand climate change by 2050. The Pacific Islands are expected to be affected especially hard. Sea level there is already rising at almost 0.5 inches (12 millimeters) per year. Eight islands have already been submerged and two more are close to vanishing. By the year 2100, experts fear 48 more islands in the Pacific will be completely underwater.
So what about the people who live there? What do we call these people who will be displaced? It's actually complicated. It's difficult to determine what category these migrants should fall under because no global definition exists. Why does that matter? Without a standard method of classification, there's no way to track how many people are affected or displaced by an environmental or climate event. So the most commonly used term is "environmental refugee."
Experts credit the term and its definition to UN Environment Programme (UNEP) researcher Essam El-Hinnawi, who in 1985 wrote the United Nations report titled "Environmental Refugees." El-Hinnawi defined environmental refugees as:
... those people who have been forced to leave their traditional habitat, temporarily or permanently, because of a marked environmental disruption (natural and/or triggered by people) that jeopardized their existence and/or seriously affected the quality of their life.
This working definition has been the baseline for current debate.
But according to the 1951 Geneva Refugee Convention, a refugee "is someone who is unable or unwilling to return to their country of origin owing to a well-founded fear of being persecuted for reasons of race, religion, nationality, membership of a particular social group, or political opinion" [source: United Nations High Commissioner for Refugees]. Environmental refugees do not legally fall under this status.