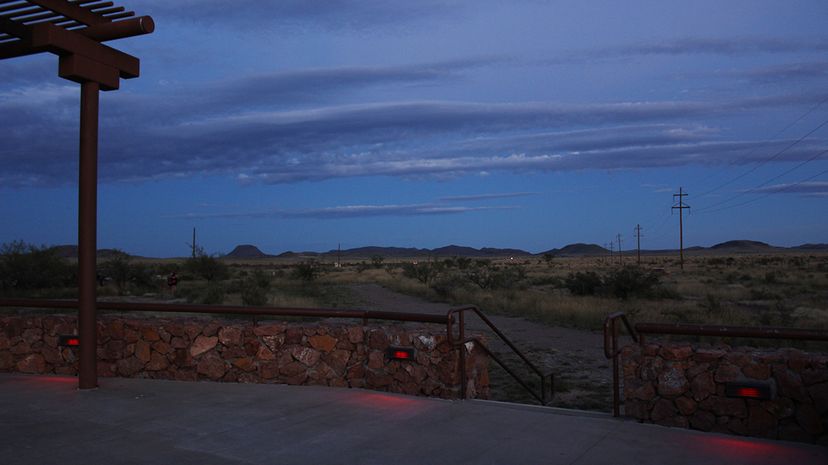 If there's one thing that people who have seen the Marfa Lights in Texas agree upon, it is that they are worth every effort to describe them. When the conditions are right, the lights mysteriously materialize, like deer quietly stepping into a meadow, as night falls on the wind-blown, forsaken West Texas landscape about 9 miles (14 kilometers) east of Marfa. Yellow orbs, like lamp-lit basketballs hover and twinkle — and at times gyrate — over the shrubby high-desert ground, in the shadows of the Chinati Mountains.
"They appeared in the darkness south of U.S. 90 between Alpine and Marfa," journalist Michael Hall wrote about seeing the Marfa Lights in a June 2006 story in Texas Monthly, "yellowish-white lights that glowed, faded, disappeared, and returned in different places. Sometimes they changed colors, other times they split apart. I couldn't tell if they were 10 miles away or a hundred, the size of a car or a house. I didn't understand them, but I didn't care. I loved those lights."
Just about everyone in Marfa, and many who have visited, has a story like that. Kathleen Shafer, an artist, geographer and author of "Marfa: The Transformation of a West Texas Town," has seen the lights, too. She moved to Marfa in spring 2017 after visiting regularly since 2007.
"I went out with a local to an undisclosed location who assured me that I would see them," she says in an email, of her first Marfa-Lights experience. "We leaned against my car as the day turned to dusk, and within a few minutes, the lights started. They really do dance around — playful like — as if communicating in some primitive way."
Though the lights can be seen from a distance and tend to "disappear" if observers approach, this is no tall tale, like Bigfoot or the Loch Ness Monster, one that stokes the imagination's embers. Many viewers record their experience — a Marfa Lights View Park encourages it.
The Marfa Lights have been visible for generations. But what they are is where people tend to stop agreeing. Many concede they're just seeing an optical illusion. But even if that's the case, what's causing it?