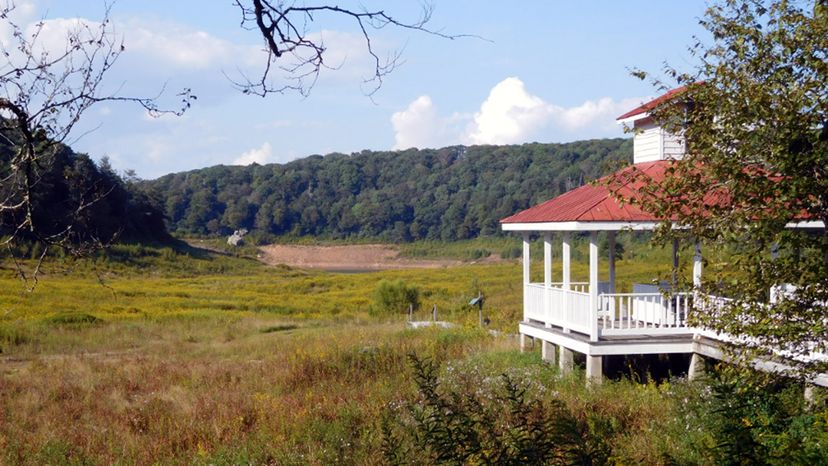 If you've never heard of Mountain Lake, which, given its location outside of Blacksburg, Virginia, and altitude of nearly 4,000 feet (1,219 meters) above sea level, would be perfectly understandable, you've still probably seen it. It's the lake in the 1987 classic "Dirty Dancing" where Johnny Castle (Patrick Swayze) and Frances "Baby" Houseman (Jennifer Grey) have a whirlwind summer romance at Kellerman's Resort.
If you have heard of Mountain Lake, then you probably already knew that. And you probably already know that the big lake from the film is now less than half full — and is more like a dried-up pond than a lake.
Today what's left of Mountain Lake belongs to the Mountain Lake Lodge, a stately hotel sitting on its south edge that played the role of Kellerman's in the film. What used to be a vacation destination for boating and swimming has had to refocuse its offerings to land-based activities, such as archery, hiking, a ropes course and "Dirty Dancing"-themed events.
I first saw the lake in 2016, when I was living in Blacksburg, and revisited it in October 2019 with Radford University geologist Chester "Skip" Watts. He's been studying the lake for 10 years and has been interested in it since his undergraduate days at Virginia Tech. Although the lake is not what it once was, the area is still beautiful, especially in the fall, when it's flanked by multicolored trees waving in the crisp mountain air.
Walking its perimeter, you can still see the original basin and how high the water would be if it was at full pool. Now instead, a long white dock juts out from the lodge's famous gazebo, never reaching the water, while old boats sit up on dry land where the water should be.