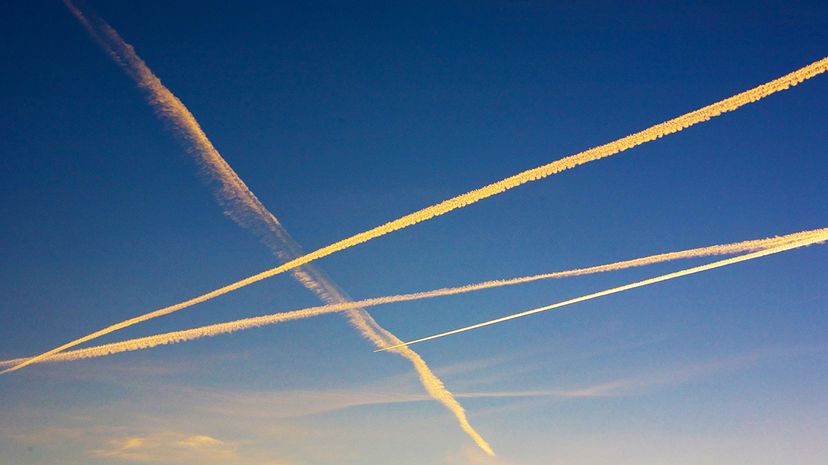 Key Takeaways
"Chemtrails" are often believed to be chemicals released from aircraft, with conspiracy theories suggesting various purposes, such as weather manipulation, radar mapping for defense, or combating global warming through albedo modification.

Weather manipulation, like cloud-seeding, has historical precedence, such as the British "Operation Cumulus" in the 1950s, which unintentionally resulted in deadly flash floods in Lynmouth, England.

While research on albedo modification (reflecting light radiation back into space) is ongoing, there is no current active program for outdoor testing or implementation, and any future experiments would be conducted transparently and undergo independent safety reviews.
The trail of clouds billowing from an airplane streaking across the sky can be mesmerizing for children and adults alike. Jet engine traffic has become so common that it's not unusual to see several lingering streaks in the afternoon skies. And though many think these cloudy bands are beautiful against a bright blue sky, others are alarmed by their mere existence.
Some people believe these cloudy trails are exacerbating global warming, while others have more elaborate theories, including that governments are secretly releasing harmful substances into the air and land via airplanes [source: The Keith Group]. Conspiracy theorists have nicknamed contrails "chemtrails" because they suspect that governments are taking advantage of this scientific phenomenon to secretly release other substances into the atmosphere.
But before we get into the chemtrails conspiracy theory, let's look at the science behind persistent contrails.