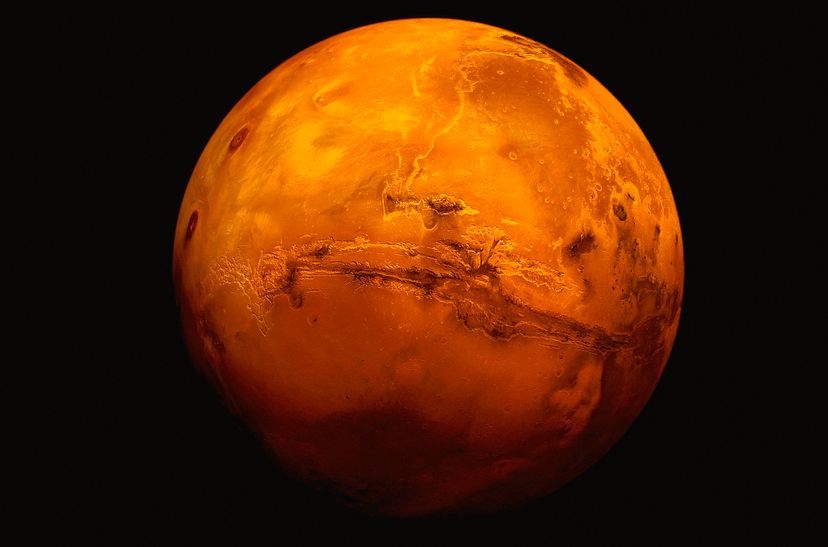 Of all the discoveries made on Mars, the detection of methane blowing in the air is probably the most compelling. It's a mysterious finding that could have historic implications. You see, on Earth, methane is a well-known byproduct of metabolizing life-forms. On Mars, that could mean – *drumroll please* – aliens!
Or, it might mean nothing at all.
The ongoing Mars methane saga hit the headlines again when NASA announced a measurement made by NASA's Mars rover Curiosity, which has the ability to precisely measure the components of the Martian air. The one-ton wheeled rover is currently trundling up the slopes of Mount Sharp, a 3-mile (nearly 5-kilometer) high mountain in the middle of Gale Crater, where eons of Mars geological history are exposed on its surface for the sophisticated robot to study.
This most recent discovery, however, isn't in the rocks and dust, it's in the atmosphere. Curiosity was able to sniff-out a record-breaking "spike" of methane. Using its Sample Analysis at Mars (SAM) tunable laser spectrometer, Curiosity detected a brief burst of methane with a concentration of 21 parts per billion units per volume (ppbv). That quantity of methane detected may sound minuscule, but on Mars, it's a big deal.
"The methane mystery continues," said Ashwin Vasavada, Curiosity's project scientist at NASA's Jet Propulsion Laboratory in Pasadena, California, in a statement. "We're more motivated than ever to keep measuring and put our brains together to figure out how methane behaves in the Martian atmosphere."
This most recent detection is even more vexing as, when mission scientists carried out a repeat analysis only days after the record-breaking detection, methane concentrations had dove back to just one ppbv, a background level of the gas that Curiosity measures routinely.