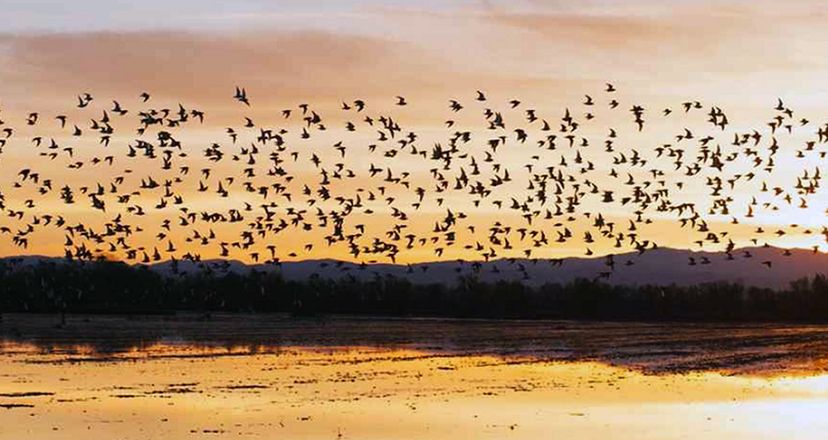 The sharing economy, which has changed everything from how people get around to how they rent rooms for vacation, is even seeping into ecology. In California's Sacramento Valley, farmers are temporarily leasing flooded rice paddies to The Nature Conservancy so migratory shorebirds have a place to stop and feed while traveling the Pacific Flyway, the major north-south route that extends from Alaska to Patagonia.
The program, dubbed BirdReturns, has been in development by The Nature Conservancy since 2014 and is helping conservationists deal with the short-term needs of migrating birds. Because of urbanization, agriculture or climate change, the migrating birds have less access to wilderness to mate, feed, nest and rear their young. At the same time, the project gives farmers the opportunity to support conservation efforts — and maybe earn a little extra money — without negatively impacting crop production.
"We think it's a novel approach to stretching our scarce conservation resources to meet the needs of a changing world," says Mark Reynolds, Ph.D., lead scientist for The Nature Conservancy's California Migratory Bird Program.
During February and March 2014, the pilot season for the program, 9,600 acres (3,885 hectares) of the 494,211 acres (200,000 hectares) of rice fields were turned into shallow water for shorebird habitat. That season, the pop-up wetlands supported more than 180,000 birds, representing 57 different species. On average, the researchers found three times more bird diversity and fives time greater density on rice paddies that participated in the program compared to un-enrolled fields.
Reynolds and his colleagues published the results of a study analyzing the program in the Aug. 23, 2017 issue of the journal Science Advances.
Migrating animals, like shorebirds, are in jeopardy as their ranges cover vast swaths of land. A 2015 study published in the journal Science from researchers at the University of Queensland in Australia reported that just 9 percent of 1,451 migratory bird species had access to protected areas for all the stages of their annual cycle. In California, in particular, says Reynolds, 90 percent of the original 3.95 million acres (1.59 million hectares) of wetland habitat has been lost to agriculture and urban development.
Since The Nature Conservancy was founded in 1951, it has worked to conserve habitat by working with landowners to purchase land or permanently limit the use of their land in order to maintain its wildness. Each agreement is worked out individually, a process that's expensive and can take months or years to develop.
Reynolds and his colleagues, including Sandy Matsumoto, the team's project manager, and Eric Hallstein, the team's economist, thought the demand for purchasing migrating bird habitat could far exceed their resources. "We were looking at our habitat needs and thinking, how do we buy our way to success?" Reynolds says. "Sandy said, 'Do we need to buy [land] for the whole year? It looks like the animals need it part of the time. Eric, with his background in economics said, 'We could do a reverse auction.' I said, 'a reverse-what?'"
A reverse auction overturns the conventional role of buyer and seller. Instead of buyers competing to out-bid each other to obtain a good or service, sellers compete to offer their goods or services to one buyer at a competitive price.